Plus-50 Lifelong Learning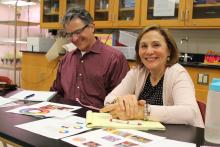 Wake Tech offers courses designed especially for adults age 50 or older that can help you discover a new career, improve your job search skills, plan for retirement or explore personal interests. The Plus-50 program has courses that range from such as yoga to dance to Spanish to scrapbooking.
In addition to courses offered at various Wake Tech campuses and sites, we offer programs at senior centers, community and recreation sites throughout Wake County. If you take a course at a location other than a Wake Tech campus, you must register for the course at that specific location.
Partner sites and senior centers
Become an entrepreneur
You may have dreamed of starting a business or turning hobbies or volunteer work into a money-making operation. Wake Tech's Small Business Center (SBC) and Entrepreneurship Initiatives programs have resources to help get you started. Talk with an SBC advisor in a free, confidential session any time questions arise.
Retired to rehired
Going back into the workforce can be daunting. You may wonder about your tech skills or generation gaps in the workplace – or you may be seeing a challenge you haven't identified yet. Wake Tech's Career Transitions Forum is a great place to start. The unique, weekly series of lectures and networking activities brings professionals together to share ideas and experience in a supportive environment. 
Course details and registration information
Course
Italian Beginning Part 1
Name
FLI-3718A2
Available Classes
Intended Audience
This class is designed for adult learners who would like to expand their knowledge of Italian language and culture.
Description
Ready to learn Italian? Basic knowledge of Italian vocabulary and grammar are taught through textbook exercises, videos, and classroom discussion. You'll build language skills you can use in travel and business — while learning more about Italian culture.
Course Objectives
demonstrate a basic understanding of the Italian alphabet, numbers, and telling time.
demonstrate a basic understanding of basic question and answer forms for personal introductions, talking about the weather, talking about family, and describing people.
demonstrate a basic knowledge of parts of speech, regular and irregular verbs, descriptive adjectives, and possessives.
learn how to use grammar and vocabulary for greetings, expressions of courtesy, schedules, sports and pastimes, and expressing ownership.
Outline of Instruction
Vocabulary and expressions for greeting and making introductions.
Nouns, articles, and numbers.
Vocabulary and expressions used in classes and schedules.
Pronouns,the verb esssere, adjective agreement.
Telling time, talking about sports and pastimes that a person likes or does not like to do.
Regular -are verbs: andare, dare, fare, and stare.
Vocabulary and expressions for talking about the weather, seasons, and the months of the year.
The verb avere, regular -ere verbs and piacere.
Vocabulary and expressions for talking about families and expressing ownership.
Possessives, prepositional contractions, regular -ire verbs.
Vocabulary and expressions for describing people and asking questions.
Descriptive adjectives, interrogatives and demonstratives
Contact Hours
24
CEU's
2.4
Industry Standard, State, or National Certification
No
CE to CU Articulation
No
Prerequisites
None
Text and Supplies Needed
Textbook requirements are subject to change and may not be the same for all instructors. For the most up-to-date textbook information, please click on the details button above.
Clinical Site/Special Facilities
N/A
Requirements for Successful Completion of this Course
Attendance 90% or above
Participation
Accreditation/Special Approval Requirements
N/A
Intended Audience
This class is designed for adult learners who would like to expand their knowledge of Italian language and culture.
Specific Industry or Business Support Needs
Industry or Job Titles Related to training Outcomes for Employment
Related Courses
Course Contact Information
Community & Career Education Staff
919-532-5700