Plus 50 Lifelong Learning
Wake Tech's Plus 50 program offers courses such as yoga, dance, Spanish, and scrapbooking. If you take a course at a location other than a Wake Tech campus such as a senior center, then you must register for a course at that specific senior center.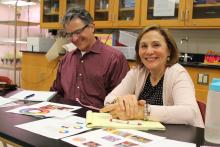 In addition to courses offered at various Wake Tech campuses and sites, we offer programs at senior centers, community and recreation sites throughout Wake County. 
Partner sites and senior centers
---
Become an Entrepreneur
You may have dreamed of starting a business or turning hobbies or volunteer work into a money-making operation. Wake Tech's Small Business Center and Entrepreneurship Initiatives programs have resources to help get you started. Talk with an SBC advisor (live and in person!) in a free, confidential session, any time questions arise.
Retired to Re-hired!
Going back into the workforce can be daunting: You may wonder about your tech skills or generation gaps in the workplace - or you may be seeing a challenge you haven't identified yet. Wake Tech's Career Transitions Forum is a great place to start. This unique, weekly series of lectures and networking activities brings professionals together to share ideas and experience in a supportive environment. 
---
Course Details & Registration Information
Course
Gentle Yoga Utilizing Props
Name
CSP-4000HC2
Overall Quality of This Course
Based on 8 student surveys.
Available Classes
Intended Audience
Anyone interested in practicing yoga. The course is open to all adults.
Description
Yoga is a whole-body exercise program for people of all ages. Yoga focuses on uniting the body, mind and spirit through movement, breathing and relaxation. With the help of props like chairs and towels, students can learn poses to achieve proper alignment and fit their own bodies more comfortably.
Course Objectives
learn ways to make yoga poses more accommodating to their bodies.
Outline of Instruction
Week 1: Introduction
We will explore some of the props used in yoga and the various ways to use them
Props: all of them
Week 2: Grounding
Seated poses and forward folds
Props: towels/blankets, blocks and balls
Week 3: Gratitude
Heart openers and breath work
Props: towels, belts, balls, blocks
Week 4: Renew
Twists and backbends
Props: towels/blankets, blocks
Week 5: Awakening
Hip and shoulder openers
Props: towels, belts, balls
Week 6: Release & Remove Stress
Tension and release exercises, extended breath work, savasana
Props: towel/blanket, pillows
Contact Hours
6
CEU's
No
Industry Standard, State, or National Certification
No
CE to CU Articulation
No
Prerequisites
None
Text and Supplies Needed
A towel or blanket and a pillow, a belt and ball are optional.
Clinical Site/Special Facilities
Requirements for Successful Completion of this Course
Attendance 100%
Participation
Accreditation/Special Approval Requirements
Intended Audience
Anyone interested in practicing yoga. The course is open to all adults.
Specific Industry or Business Support Needs
Industry or Job Titles Related to training Outcomes for Employment
Related Courses
Course Contact Information
Michael Langer
919-532-5526