Plus 50 Lifelong Learning
Plus 50 Expo

Free event!
Tuesday, March 13, 2018
9 a.m. - 12 p.m.
Wake Tech Northern Wake Campus
Building K

Sample Wake Tech's Lifelong Learning classes and services, and attend presentations from community partners. The event features vendor booths, refreshments, workshops, and opportunities to speak with Wake Tech staff about your "next move!"

---

Interested in having a booth at the Plus 50 Expo?
Or have your business featured at the event?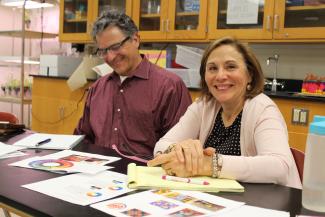 Wake Tech offers courses designed especially for adults 50 and over that can help you discover a new career, improve your job search skills, plan for retirement, or explore personal interests. 
At our Plus 50 events, you can sample courses and attend presentations from community experts on a wide variety of topics - small business counseling, long-term healthcare, retirement, beer brewing, flying commercial drones, and much more! Stay tuned for announcements about upcoming Plus 50 events. 
---
Check out these programs and resources:
Become an Entrepreneur
You may have dreamed of starting a business or turning hobbies or volunteer work into a money-making operation. Wake Tech's Small Business Center and Entrepreneurship Initiatives programs have resources to help get you started. Talk with an SBC advisor (live and in person!) in a free, confidential session, any time questions arise.
Retired to Re-hired!
Going back into the workforce can be daunting: You may wonder about your tech skills or generation gaps in the workplace - or you may be seeing a challenge you haven't identified yet. Wake Tech's Workforce Continuing Education division can help -- and the Career Transitions Forum is a great place to start. This unique, weekly series of lectures and networking activities brings professionals together to share ideas and experience in a supportive environment. 
---
Course Details & Registration Information
Course
History Through Art
Name
CSP-4000FT2
Overall Quality of This Course
Based on 10 student surveys.
Available Classes
Intended Audience
Au Pair Course, Plus 50
Description
This course examines how history is portrayed in images and artifacts as opposed to words. In some cases, images and text combine to enhance the story, while in others, they may confuse or mislead. This course series presents an introduction to the concept of Healing Arts, Agriculture and Food, Industry and Manufacture, Lifestyles and Living aspects of history.
Course Objectives
leave the course knowing the impact of history portrayed through art.
Outline of Instruction
First session introduces the student to the concept of History Through Art and the precepts for the process.
Healing Arts looks at both the way in which healing and medicine have been portrayed and how image has been used in teaching medicine
Agriculture and Food looks at how the cultivation, preparation and presentation of nourishment has been portrayed and conveyed to the present
Industry and Manufacture looks at how we learn about past processes and methods of making things is conveyed and preserved
Lifestyle and Living is a segment that looks at how we learn of past trends and practices through the images created and preserved for our study today..
Contact Hours
10
CEU's
No
Industry Standard, State, or National Certification
No
CE to CU Articulation
No
Prerequisites
Text and Supplies Needed
Clinical Site/Special Facilities
Requirements for Successful Completion of this Course
Attendance 90% or above
Participation
Accreditation/Special Approval Requirements
Intended Audience
Au Pair Course, Plus 50
Specific Industry or Business Support Needs
Industry or Job Titles Related to training Outcomes for Employment
Related Courses
Course Contact Information
Courtney Boney
919-334-1612