Medical Laboratory Technology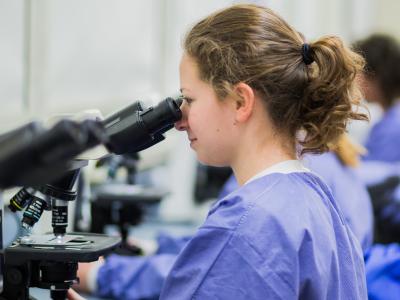 Program Contact
Health Sciences Admissions
Degrees & Pathways
AAS - Associate in Applied Science
About The Program
Do you like science? Would you like to know what causes infections and diseases – or how they make us sick? Do you find the idea of helping physicians diagnose patients appealing? If so, you might want to consider a career as a Medical Laboratory Technologist (MLT).
Perry Health Sciences Admissions
919-747-0402


[email protected]
MLTs perform tests that help physicians diagnose, monitor and treat disease. They can determine the cause of an infection and use sophisticated equipment to analyze blood's chemical components, like  glucose and cholesterol. They know how to use a microscope to identify normal and abnormal blood cells and determine a patient's blood type. MLTs supply the health care team with a wealth of critical information, both diagnostic and therapeutic.
The Medical Laboratory Technology program at Wake Tech offers the education and training necessary to become a highly qualified and successful MLT. The curriculum prepares you to perform clinical laboratory procedures in chemistry, hematology, microbiology and immunohematology. Coursework emphasizes the mathematical and scientific concepts behind specimen collection and laboratory testing, quality assurance and the reporting, recording and interpreting of findings involving tissues, blood and body fluids.
Upon successful completion of the program, you will be eligible to take the examination given by the ASCP Board of Certification.
The MLT program at Wake Tech is accredited by the National Accrediting Agency for Clinical Laboratory Sciences (NAACLS), 5600 N. River Road, Suite 720, Rosemont, IL 60018-5119 (Phone: 773-714-8880).
Program Contact: Health Sciences Admissions
Office Phone: 919-747-0402