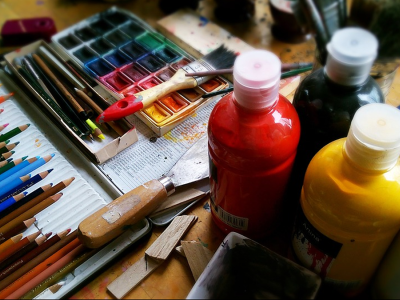 Key Info
Program Contact
Melania Aguirre-Rabon
Degrees & Pathways
AFA - Associate in Fine Arts
About The Program
The Associate in Fine Arts (AFA) in Visual Art degree is a college transfer program which allows students the opportunity to explore their creative and technical skills while building a strong foundation in artistic practice. Art History courses provide a grounding in the history and context of the visual arts while studio courses provide hands-on experience of a variety of traditional and digital media. Wake Tech offers Studio Art courses in drawing, design, painting, printmaking, sculpture, computer art, graphic design, and portfolio/resume.
The Associate Fine Arts (AFA) in Visual Arts (A10600) degree is granted for a planned Program of Study.  It consists of a minimum of 60 semester hours of college transfer courses that include; required 15 credits in Art Studio and Art History courses, Universal General Education Transfer Courses (UGETC), General Education Core and Transferable courses.  The program can be completed in two years of full-time study. AFA-Visual Arts Suggested Course Sequence (Full-time students)
As well as preparing art students for professional practice in the field, the AFA program prepares students for transfer into a B.A. or B.F.A. program in many areas of visual art or design: studio art, graphic design, art education, art history.  Wake Tech has transfer agreements with various public and private colleges (AFA-Visual Arts Transfer Agreements), allowing students to transfer with junior status to a BA or BFA program. The 2017 AFAVA to BFA statewide Uniform Articulation agreement guarantees that students successfully completing the AFA degree and meeting the receiving institutions' requirements may transfer the 60 credits of the AFA program into seven of the UNC system schools BFA programs. To be eligible for the transfer of credits under the AFAVA to BFA AA, an applicant must earn an AFA in Visual Arts degree in a North Carolina Community College with a GPA of at least 2.0 and a grade of C or better in all transfer courses.
The Associates of Fine Arts program is offered on Southern Wake Campus, Scott Northern Wake Campus, and online.  However, due to the process-based nature of Art studio, they are taught in a traditional face-to-face classroom setting and not online. Students have access to exhibition opportunities on both campuses, as well as access to the Triangle's dynamic arts and cultural resources. The Visual Arts Success and Engagement Center provides students with access to resources and opportunities. AFA in Visual Art students have priority registration for the required AFA classes.
The AFA Visual Arts degree Program Learning Outcomes: are Design Thinking and Production, Written Communication, Critical Thinking, and Information Management.
Preparation for Art Classes
Supplies: Students must purchase most of their own art supplies. Many items can be used for more than one class.  During the first day of classes, art studio course supply lists are provided and discussed. Furthermore, basic Art kits are available at the College Bookstore.
 
First day: Bring a copy of the course syllabus to the first class along with a notebook and pen or pencil.
 
Studio classes: Studio classes focus on hands-on experience but also include lectures, critiques, demonstrations, and discussions. Students should plan to complete all designated studio hours. Studio classes require 6 contact hours per week.
 
Prerequisites: AFA students should take ART 121 and ART 131 before taking any other 2-D studio courses, and ART 122 before taking any other 3-D courses.
Career Options
With an AFA in Visual Art, a student can build a career as a visual artist. However, to reach full professional potential and compete in the creative field, it is recommended that AFA students transfer to a university to complete a bachelor's degree. 
With a BFA in art, design, or art history, students have a variety of career options:
Fine Arts and Crafts: illustration, printmaking, sculpture, ceramics, painting, photography, jewelry making, metalsmithing, book arts, glass, fibers, woodworking
 
Design and Commercial Arts: architecture, jewelry, fashion/clothing, game design (virtual environments, character development), graphics (print publication, logos, web design, user interface design, package design, motion graphics , animation, infographics, products, textiles, furniture, exhibition design, set design, commercial photography, documentary photography
 
Arts Education: pre-K, K-12, higher education, community-based education, lifelong learning, extra-curricular education,
 
Arts History and Arts Management: nonprofit and for-profit galleries and museums, nonprofit development, art therapy, academic research and teaching