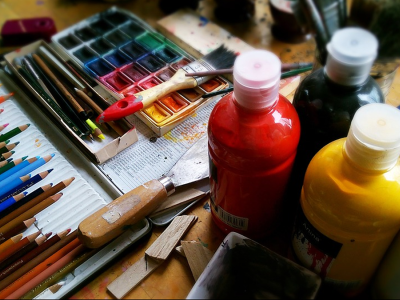 Program Contact
Melania Aguirre-Rabon
Degrees & Pathways
AFA - Associate in Fine Arts
About The Program
The Associate in Fine Arts (AFA) in Visual Art degree is a University transfer program, which allows students the opportunity to explore their creative and technical skills while building a strong foundation in artistic practice. Art History courses provide a grounding in the history and context of the visual arts while studio courses provide hands-on experience of a variety of traditional and digital media. Wake Tech offers Studio Art courses in drawing, design, painting, printmaking, sculpture, digital design, graphic design, and portfolio/resume. 
The Associate Fine Arts (AFA) in Visual Arts (A10600) degree is granted for a planned Program of Study.  It consists of a minimum of 60 semester hours of university transfer courses that include; required 15 credits in Art Studio and Art History courses, Universal General Education Transfer Courses (UGETC), General Education Core and Transferable courses.  The program can be completed in two years of full-time study. AFA-Visual Arts Suggested Course Sequence (Full-time students). Students are welcome to pursue the AFA on a part-time or evening basis, as well.
The Associates of Fine Arts in Visual Art program prepares students for transfer into Bachelor of Arts or Bachelor of Fine Arts programs in studio art, graphic design, art education and art history, as well as preparing students for professional practice in the field of art. Wake Tech has transfer agreements with UNC System Schools, Private Colleges and with The Savannah College of Art and Design.  Credits earned in this program may also be transferable to 4-year universities and colleges in any field of study.
The Associates of Fine Arts program is offered on Southern Wake Campus, Scott Northern Wake Campus, and online.   Due to the process-based nature of Studio Art, studio classes are taught in a traditional face-to-face classroom setting and not online. Students have access to exhibition opportunities on both campuses, as well as access to the Triangle's dynamic arts and cultural resources. The Visual Arts Success and Engagement Center (VASE) provides students with access to resources and opportunities in the arts. AFA in Visual Art students have priority registration for the required AFA classes.
The AFA Visual Arts degree Program Learning Outcomes: are Design Thinking and Production, Written Communication, Critical Thinking, and Information Management.