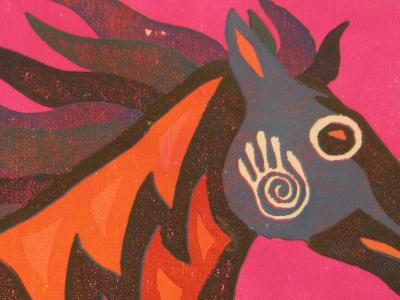 Key Info
Program Contact
Melania Aguirre-Rabon
Degrees & Pathways
AFA - Associate in Fine Arts
About The Program
ASSOCIATE IN FINE ARTS (AFA) DEGREE IN VISUAL ART
Wake Tech's two-year associate degree program prepares students for professional practice or the pursuit of a bachelor's degree. (It is appropriate for those who wish to pursue a bachelor's in any area of visual art or design [studio art, graphic design, art education, art history] at a UNC System university.)
The AFA curriculum focuses on creativity and technical skill along with historical knowledge of art and design. Courses and studio work build skills in concept development, visual observation, personal expression, critical thinking, and problem-solving to prepare students for professional success. The program includes hands-on practice in traditional drawing, painting, sculpting, and printmaking while also fully exploring digital and other emerging technologies. Faculty and advisors help students identify interests and abilities and find the right career pathway. 
The Associate in Fine Arts in Visual Arts degree (A10600) Program of Study meets the Comprehensive Articulation Agreement (CAA) course needs of the students and communities we serve. We promote a learning-centered environment designed to assist and equip students to successfully complete the AFA Visual Arts degree and transfer to a university or college. The AFA Visual Arts degree Program Learning Outcomes are Design Thinking & Production, Written Communication, Critical Thinking, and Information Management.
FINE ARTS FOR NON-ART MAJORS
Non-art majors are advised to take ART 111, ART 114, or ART 115. These courses can satisfy up to 6 of the 9 hours of humanities required for the AA degree program; they are non-sequential and may be taken in any order. Non-majors may also enjoy introductory courses in various media, including drawing, design, sculpture, painting, printmaking, and computer art; however, AFA students have priority registration for these courses. 
PREPARATION FOR ART CLASSES
Supplies: Students must purchase most of their own art supplies. Many can be used for more than one class.  Supply lists are given on the first day of class and not required for that first class meeting.
First day: Bring a copy of the course syllabus to the first class along with a notebook and pen or pencil.
Studio classes: Studio classes focus on hands-on experience but also include lectures, critiques, demonstrations, and discussions. Students should plan to complete all designated studio hours.
Prerequisites: AFA students should take ART 121 and ART 131 before taking any other 2-D studio courses; and ART 122 before taking any other 3-D courses.
CAREER OPTIONS 
With an AFA, a student can build a career as a visual artist with an AFA. However, to reach full professional potential and compete in the creative field, it is recommended that AFA students transfer to a university to complete a bachelor's degree. 
With a BFA in art, design, or art history, many additional career options open: 
Fine Arts & Crafts: illustration, printmaking, sculpture, ceramics, painting, photography, jewelry making, metalsmithing, book arts, glass, fibers, woodworking
Design & Commercial Arts: architecture, jewelry, fashion/clothing, gaming (virtual environments, character development), graphics (print publication, logos, web design, user interface design, package design, motion graphic, animation, infographics, products, textiles, furniture, exhibit design, set design, commercial photography, documentary photography
Arts Education: pre-K, K-12, higher education, community-based education, lifelong learning, extra-curricular education
Arts History and Arts Management: nonprofit and for-profit galleries and museums, nonprofit development, art therapy, academic research and teaching