Associate in Fine Arts - Visual Art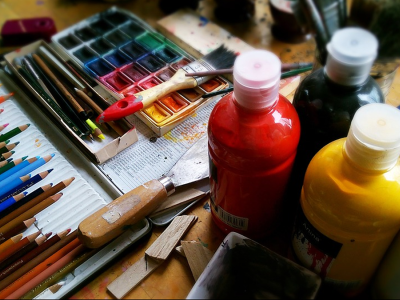 Program Contact
Melania Aguirre-Rabon
Degrees & Pathways
AFA - Associate in Fine Arts
About The Program
The Associate in Fine Arts (AFA) in Visual Art degree is a University Transfer program, which allows students the opportunity to explore their creative and technical skills while building a strong foundation in artistic practice. Art history courses provide a grounding in the history and context of the visual arts, while studio courses provide hands-on experience in a variety of traditional and digital media, including drawing, design, painting, printmaking, sculpture, digital design, graphic design and portfolio/resume.
The AFA in Visual Arts degree consists of at least 60 semester hours of University Transfer courses, including 15 required credits in studio and art history courses, Universal General Education Transfer Courses, general education core and transferable courses. The program can be completed in two years of full-time study. Students are welcome to pursue the AFA on a part-time or evening basis as well.
Suggested classes to select for the first semester of study (or first several semesters, if part-time):
ACA-122: College Transfer Success (1 credit hour)
ENG-111: Writing and Inquiry (3 credit hours)
MAT-143: Quantitative Literacy, MAT-152: Statistical Methods I or MAT-171: Pre-calculus Algebra (3 credit hours)
Required art history classes
Choose one per semester:
ART-114: Survey of Art History I (3 credit hours)
ART-115: Survey of Art History II (3 credit hours)
ART-114 and ART-115 can be taken in any order. ENG-002 or equivalent must be taken before registering for these classes.
Required studio classes
Studio art classes help students build art skills for transfer and provide opportunities for media exploration. Students pursuing a Bachelor of Fine Arts (BFA) transfer will be required to pass a portfolio review in their first semester of study at their transfer institution. This will include artwork from the AFA program, as well as work completed during their first semester at the receiving institution. Taking a studio art class each semester is important for creative development and portfolio preparation.
Choose one or two per semester. Students should take core art studios before registering for elective studio courses. Art studio classes meet for six contact hours.
ART-121: Two-Dimensional Design (3 credit hours)
ART-131: Drawing I (3 credit hours)
ART-122: Three-Dimensional Design (3 credit hours)
These required studio classes are offered in the Fall and Spring semesters and can be taken in any order. Studio-based courses are restricted to AFA in Visual Arts students.
Elective studio classes
In addition to the core classes, a variety of elective studio and art history classes are offered for students pursuing an AFA degree or BFA transfer to build skills and meet the prerequisite for course required in the major area. Check the Course Descriptions page for more information.
Some studio-based classes are offered online with a required synchronous virtual component. Hybrid and in-person studio-based classes are offered at Southern Wake Campus and Scott Northern Wake Campus. Elective courses are not offered every semester, and no studio-based classes are offered during the Summer term.
Students have access to exhibition opportunities on both campuses, as well as access to the Triangle's dynamic arts and cultural resources. The Visual Arts Success and Engagement Center (VASE) provides students with access to resources and opportunities in the arts.
Students are encouraged to use the AFA advising checklist as a reference for determining AFA degree requirements.
BFA transfers
The AFA in Visual Arts is a statewide curriculum with transfer agreements to university BFA programs, UNC System universities and independent colleges.
The AFA-to-BFA statewide agreement ensures that students can transfer seamlessly with the 60 to 61 credits from the AFA into a BA or BFA program. Important criteria for this agreement include the following:
Students need to be accepted into the university – acceptance is not guaranteed.
Earn a "C" or better in all classes taken at Wake Tech
Take at least 25% of classes at Wake Tech
Graduate with a minimum 2.0 cumulative GPA
Students intending to transfer to a four-year university should thoroughly research the specific BFA requirements applicable to their program of choice: