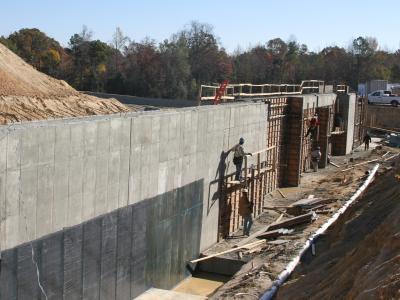 Program Contact
Beth Ihnatolya
Degrees & Pathways
AAS - Associate in Applied Science
Certificates
About The Program
A construction manager is trained to manage a construction project and job site from concept to finished product. Construction projects range from simple structures like concrete driveways, small houses and barns to more complex commercial buildings and even roads, bridges and other large-scale construction projects. A degree in construction management effectively arms the graduate with the academic and practical tools necessary to enter easily into a secure, ever-expanding and opportunity-filled industry. As populations increase, so will opportunities for construction managers.
Education
The Construction Management Technology (CMT) curriculum is designed to provide students with the applied, managerial and supervisory knowledge associated with the construction industry. Students will develop both technical skills and basic construction management techniques for industry applications and entrepreneurship. 
Coursework
Construction Management Fundamentals
Construction Methods and Materials
Residential and Commercial Print Reading
Planning and Scheduling
Construction Estimating
Costs and Productivity
Construction OSHA Safety
Human Relations Issues
The CMT degree program prepares individuals to supervise, manage and inspect construction sites, buildings and associated facilities. It focuses on materials and methods of modern construction, construction site safety, construction management fundamentals, professional construction supervision, labor relations, diversity training, construction documentation, scheduling, residential and commercial estimating, residential and commercial blueprint reading, resource and cost control, construction insurance and bonding, accident management and investigation, applicable construction law and regulations, employability and communication skills.
The CMT certificate programs are designed for those already employed in the construction industry who want to study the basic principles of construction management, construction estimating and safety management.
---
Employment
The construction industry is part of the third-largest sector of employment providers in the United States. Construction activity is always being planned or performed, from highways, bridges and infrastructure to commercial and residential remodeling. Upon graduation, students may seek positions with small or large firms, government and private agencies as assistant project managers, assistant project engineers, assistant superintendents, project estimators, field technicians, building inspectors, general contractors, crew foreman and other positions requiring skills and knowledge in various aspects of the industry.
Salaries for these construction positions vary based on job requirements and location, but many entry-level positions start at $17 to $20 per hour. With larger companies, salaries can start as high as $45,000 per year. According to the U.S. Bureau of Labor Statistics, the median income for a construction manager in 2014 was $85,630; income may increase based on experience and the size of the project.