Civil Engineering Technology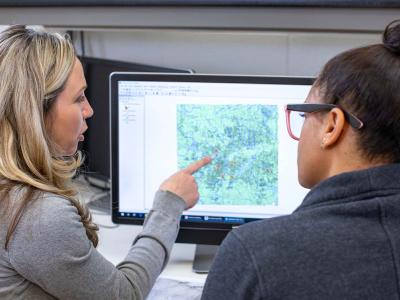 Program Contact
Beth Ihnatolya
Degrees & Pathways
AAS - Associate in Applied Science
Certificates
About The Program
The Civil Engineering Technology curriculum provides relevant engineering skills and theory needed by technicians to carry out planning, analysis and supervisory tasks in the design and construction of transportation and utility infrastructure, as well as elements relevant to residential and commercial site design. There are scholarship funds available for this program of study.
Civil Engineering Technology students are introduced to a variety of coursework covering drainage and erosion control, statics and strength of materials, materials testing, site design and site surveying, as well as CAD and GIS software suitable for performing common workplace objectives. Graduates also have transfer opportunities to pursue bachelor's degrees at UNC-Charlotte (Civil Engineering Technology), East Carolina University (Industrial Technology) and North Carolina A&T State University (Geomatics).
Software used:
ArcGIS Desktop 
ArcGIS Pro 
AutoCAD 
Autodesk Infrastructure Design Suite with Civil 3D 
HEC-HMS 
Microsoft Excel 
Microsoft Project 
Pix4Dmapper 
Survey Pro 
Trimble Positions & TerraFlex
ArcGIS Drone2Map 
For more information, email Beth Ihnatolya at [email protected].
Employment
Graduates in Civil Engineering Technology typically find employment in the field as engineering technicians or engineering specialists, or in the office as a CAD technician or designer. Starting salary range for technicians in this area is typically $34,000 to $40,000 per year for a Level I, II or III engineering technician or $42,000 to $78,000 per year for a Level I or II engineering specialist and can go up to between $57,000 to $79,000 per year, depending on position, qualifications and prior work experience. CAD technicians start out at $18 per hour and designers at $26.50 per hour, but income can be up to $28 per hour for technicians and $40.50 for designers, depending on qualifications and work experience. This is a field that is in high demand, with many opportunities in the private industry and through the North Carolina Department of Transportation.