Events
Law Enforcement Cadets Graduate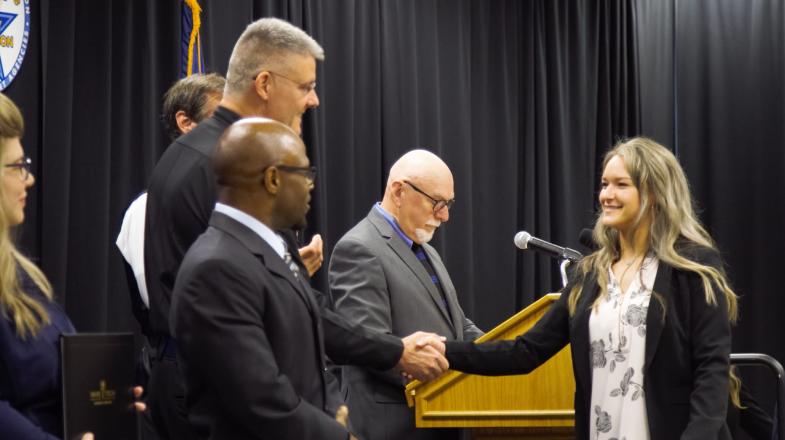 RALEIGH, N.C. (June 25, 2021) – Wake Tech honored 13 cadets and 10 limited enrollee students from Basic Law Enforcement Training (BLET) today during a graduation ceremony at the Public Safety Education Campus. Graduates from the 2020-2021 night class and 2021 day class received certificates and awards in front of family and friends at the first in-person BLET graduation since before the pandemic.
One of the graduates was Holly Springs Police Chief Paul Liquorie, who moved to North Carolina from the Washington D.C. area in September. Chief Liquorie served as a commander for the Montgomery County Police Department in Maryland, just outside of our nation's capital, and has more than 30 years of experience in law enforcement. North Carolina requires officers from other states to complete a certain amount of training at a NC law enforcement training academy to be fully certified in North Carolina. The amount varies by officer and is set by the NC Training and Standards Commission.
Chief Liquorie, who is considered a limited enrollee, was the guest speaker at the event.
"It takes a special type of person to put their life on the line for a stranger," said Chief Liquorie. "I want to thank the graduates who chose a career in law enforcement, especially at this time in our history."
Treva Tyson, one of the class sergeants, praised her fellow graduates.
"I'm so proud of how hard we all worked," she said. "I can't wait t see where our law enforcement journeys take us."
Cadets from both classes received awards:
Highest Academic Award-Treva Tyson, Elexa Soriano
Johnny Blackmon Physical Fitness Award -Ray Burney, Colby Hall
Highest Firearms Average Top Gun Award -Gary Broad, Colby Hall
Wake Tech has offered its BLET Academy for more than 45 years. The rigorous program includes 768 hours of training and cadets are required to pass the Police Officers Physical Ability Test (POPAT), a timed series of search and rescue, physical agility, and mental alertness drills.
Wake Tech was the first community college in North Carolina – and the second in the nation – to earn CALEA® accreditation for its Public Safety Training Academy. CALEA®, the Commission on Accreditation for Law Enforcement Agencies, recognizes best practices and professional excellence in policy and practice.
The next round of BLET training begins in July. To learn more about basic law enforcement training at Wake Tech, visit blet.waketech.edu.