Program Highlight
Newly-Renovated Dental Hygiene Clinic Opens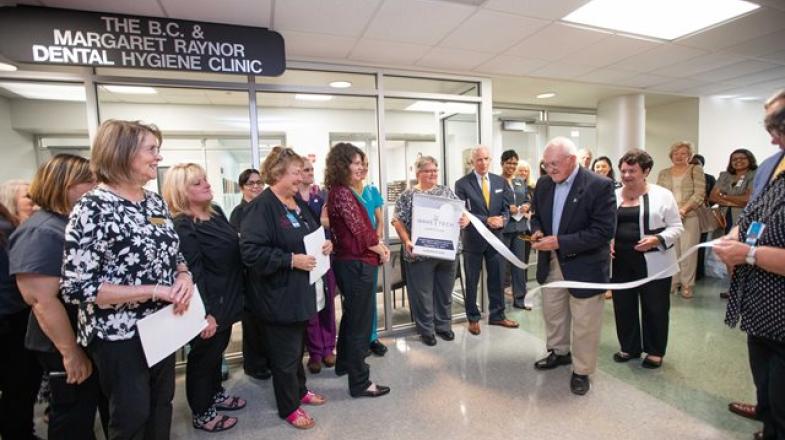 RALEIGH, N.C. (September 16, 2019) - With the ceremonial cutting of a "ribbon" of dental floss, Wake Tech's newly-renovated Dental Hygiene Clinic opened today at the Perry Health Sciences Campus. Wake Tech President Dr. Scott Ralls and long-time benefactors of Wake Tech's Dental Hygiene program, Dr. B.C. Raynor and Margaret Raynor, were on hand to do the honors.
"With the renovation of our dental hygiene lab, our clinic will have new, top-of-the-line dental equipment to better train our students and better serve our patients," said Dr. Ralls.
Equipment in the clinic was more than 17 years old and in disrepair. The renovated clinic is bright and modern, boasting a top-to-bottom makeover that includes updated equipment, new flooring and cabinetry, and a more convenient layout for students learning highly-skilled techniques.
Dr. Angela Ballentine, Wake Tech's new Provost and Chief Campus Officer for the Perry Health Sciences Campus, says she's most excited about the expansion and renovation for students: "We're thrilled that our students will have the advantage of learning and training on state-of-the-art equipment. And we greatly appreciate our generous donors for making this dream come true."
Members of the Wake Tech Board of Trustees toured the facility, which is now ready to accept new patients. Students in the Dental Hygiene program provide preventive care as well as sealants and X-rays. The program has relationships with many local dentists and can refer patients for continued treatment if needed.
The Trustees' tour of Wake Tech teaching labs continued to the recently-renovated Dental Assisting and Medical Laboratory Technology labs. Both now have additional space, new equipment, and lockers for students.
The Dental Assisting lab has a new camera and TV system installed in many locations throughout the facility. "Before renovations, students had to crowd around the teacher demonstrating the technique," said Trudy Clark, Dental Assisting Department Head. "Now, a camera zooms in on the teacher so students can more easily see what is happening on the TV monitors in their labs." Faculty can also record training demonstrations so students can view them later.
In the Medical Laboratory Technology space, students are excited about equipment upgrades such as new autoclaves, incubators, and monitors at each workstation. They're also glad all MLT classes and labs are now in the same building.
For more information about Dental Hygiene, visit dentalhygiene.waketech.edu. For more about Dental Assisting visit dentalassisting.waketech.edu. And for more about Medical Laboratory Technology, visit mlt.waketech.edu.