Building a New Career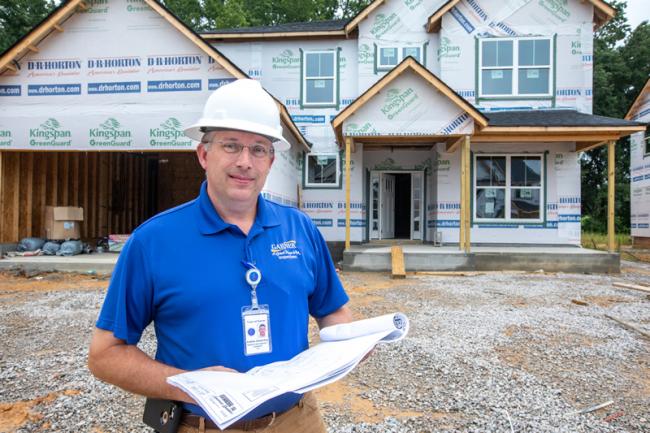 Andrew Szwarckop
Class of 2018
"Wake Tech had the right courses at the right times for me."
— Andrew Szwarckop
Andrew Szwarckop didn't let the frustrations of years at a desk job get in the way of achieving his career goals.  At age 48, he saw a limited chance for advancement in his longtime position. He considered his options and took action to make a change. Enrolling in Workforce Continuing Education classes at Wake Tech was the right move for him. 
Having previously earned a BA in Public Administration, Andrew knew he would need some additional skills to retune his career. His goal was to work in the field of code inspection, a career with plenty of opportunities. Wake Tech had many of the courses he needed: building inspection, plumbing inspection, fire code, and administration. Andrew was highly motivated. He finished all Level 1 inspector classes and passed challenging exams--all within a year of starting the program.
"Wake Tech had the right courses at the right times for me. Dedicated instructors who work in the field added real-world experience to the classroom. They gave me the inspiration to gain the knowledge to make the career change I was looking for," said Szwarckop.
Andrew's hard work paid off:  he was hired as a Code Enforcement Officer ll for the Town of Garner. The new position is a great fit. He gets to be out and about, not behind a desk. But most rewarding, Andrew made it happen on his own. He completed classes, passed the tests required and got a great job with a bright future. "It's an honest day's work for an honest day's pay. This job offers me a tremendous opportunity to grow," Szwarckop said.
Garner and many other North Carolina towns are constantly looking for trained code enforcement officers. Garner Inspections Director Tony Beasley said, "Wake Tech provides training by experienced code enforcement officers to help us fill positions. We anticipate a growing need for these skilled professionals in our community to assist growing business and residential construction."
Jim Frawley, the Instructional Supervisor for Vocational Training at Wake Tech says, "Many experienced inspectors are reaching retirement age, so we hear all the time about the tremendous need for new code inspectors in our area. Wake Tech offers both CEU credits for inspectors already in the field as well as classes new inspectors need. It's our job to prepare students with the knowledge and skills to help them succeed." 
Interested in a career in Building Inspection and Code Enforcement? Learn more online, or contact Maribel Madera Garcia at [email protected].