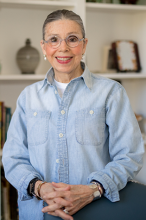 Planned giving is an investment in the future. There are many ways to give and gifts of all sizes qualify. Whichever you chose, 100% of your gift will benefit Wake Tech students, faculty and staff, and your generosity will create a legacy for generations to come.
Legacy Society
The Legacy Society is a community of donors who have chosen to include Wake Tech in a planned or estate gift – through a will, a trust, or other avenues. Planned giving allows donors to create a lasting legacy that may not otherwise be possible during a donor's lifetime.
Legacy Society members are recognized in the annual report and on the donor wall outside the President's office as well as highlighted on the college website and in newsletters. Donors can remain anonymous if they so choose; however, we encourage them to share their names as an inspiration to others.
Contact the Foundation today if you already have a planned gift or to get started.
Gift Options
Planned gifts take many forms and permit donors to designate a specific dollar amount, a percentage of an estate or retirement plan, or a piece of property. Your attorney or financial planner can help you prioritize your gift for the greatest impact and most favorable tax benefits.
CONTACT
All correspondence and consultations will be held in strictest confidence.