Drones, Drones, Drones!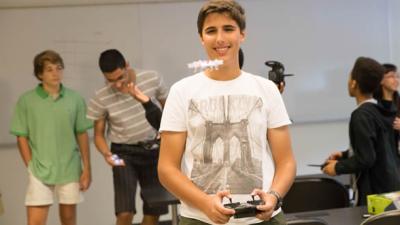 Want to get your teen off the couch and outside this summer? Learn the ups and downs of autonomous unmanned aerial vehicle technology (UAV), otherwise known as DRONES! Discover the science and technology behind building, programming, test flying small Drones safely, and in compliance with current FAA (Federal Aviation Administration) rules and regulations. Campers will meet and learn from a FAA licensed and insured Drone instructor/operator.  Opportunities for future Drone operators include careers in search and rescue, aerial photography and cinematography, agriculture land surveying, construction DOC, surveying storm damage, and other natural disasters. All campers will receive their very own UAV micro Drone Ready to Fly. The sky is the limit!!
Availability
Campus / Location
Date(s)
Time
Register
Partial Scholarships are Only Available for Select Camps. 
See Scholarship Form for Scholarship Eligible Camps.
Scholarship application deadline is May 10, 2019
Submit scholarship application and all required application documentation by email to Courtney Boney. For additional information about scholarships, contact Courtney Boney at [email protected]
Recipients will be notified by May 24, 2019
Scholarships are contingent upon seat availability in camp
Registration for scholarship applicants and partial payments will be accepted after the notification date
Applications that are submitted in without the necessary requirements as listed on the form will not be reviewed
How to Register
Campers must provide their own lunch. 
Lunch IS NOT Provided.
Camp Cancellation Policy
Wake Tech reserves the right to cancel camp sessions because of insufficient enrollment or instructor availability, in which case a full refund will be given.
Refund Policy
Registrants who cancel 10 calendar days or less before the camp starts will be refunded 75% of the registration fee. "No-shows" are responsible for the registration fee. No refunds will be given after the course begins. To change your registration information or drop out of a camp, submit a written request to the Workforce Continuing Education Registration & Records Office before the camp start date:
Wake Technical Community College
Workforce Continuing Education Registration & Records
9101 Fayetteville Road
Raleigh, North Carolina 27603
More Information
For questions or more information about this camp, please contact Courtney Boney 
at 919-334-1612 or [email protected]