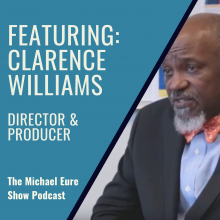 Special Guest - Clarence Williams
In this week's episode, Michael welcomes Clarence Williams, a Peabody Award- and Emmy Award-winning television news producer and director. Michael discusses Williams' experiences at Capitol Broadcasting Company, where he worked for more than 40 years, as well as his experiences in the military and as a community volunteer.
Published on:
Aug. 18, 2020
Episode Guest
Clarence Williams
Clarence Williams, director/producer, had the distinction of being the longest-tenured employee at Capitol Broadcasting Company for many years.
Clarence directed award-winning newscasts, live sports coverage, public affairs programs and special projects and changed the way college coaches' shows were produced by moving the production away from the studio environment to being produced on location. Clarence directed/produced/edited N.C. State coaches programs, including "The Jim Valvano Show," which became the standard for other coaches and broadcasters to use across the nation.
Episode Notes
This episode was recorded April 11, 2018.