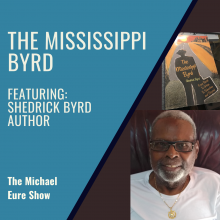 The Mississippi Byrd
Featuring Shedrick Byrd
During this episode, Michael will talk with Shedrick Byrd, Author of The Mississippi Byrd. The discussion will begin with his life experiences in Mississippi and end with his arrival at Norfolk, Virginia, where he retired from military career with the United States Navy. Byrd also graduated from Norfolk State University and became the first Public Relations Director for the CIAA, the oldest athletic conference featuring HBCUs in the nation. Mr. Byrd is a contributing columnist for the Norfolk Journal and Guide Newspaper. Additionally he is a member of Omega Psi Fraternity, Inc. and the American Legion in Norfolk.
Published on:
Mar. 02, 2021
Episode Guest
Shedrick Byrd
Shedrick Byrd is the author of The Mississippi Byrd: From Rural to Urban to Suburban and Beyond, which was written at the encouragement of many of his relatives and friends to motivate a larger audience. It is filled with challenges, excitement, and scintillation as it chronicles some of his adventure and misadventures. The book describes the tracks of Byrd's life from rural Mississippi to urban Gary, Indiana to suburban Ann Arbor, Michigan and beyond including twenty years of service and travel in the U.S. Navy.
Episode Notes
This episode was streamed February 25, 2021.