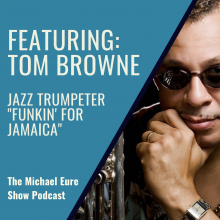 Black Music Month - Tom Browne
Internationally known jazz trumpeter Tom Browne (Funkin' for Jamaica) will be the featured special guest on the Michael Eure Show. In addition to Browne talking about his experiences and briefly performing, Earl Ijames will also be part of the conversation and share information about Juneteenth and its relationship to Black Music Month.
Published on:
Oct. 27, 2020
Episode Guest
Tom Browne
With over three decades of recordings and sharing the concert stage with luminary figures of jazz music, Tom Browne continues to captivate listeners as an entertainer who has successfully mixed stage presence and musical artistry with a sincere audience connection and warmth.
Tom has certainly worked with the industry's best and brightest, having shared the concert stage with Bob James, Dave Grusin, Najee, Roy Ayers, Joe Sample, Melba Moore and a host of others. Sought early on by Columbia Records, Warner Brothers and CTI, Browne was introduced (by Earl Klugh) to Dave Grusin and Larry Rosen, and subsequently signed his first recording contract with the newly formed GRP Records label. GRP and Browne produced some of the labels best hits including Funkin' For Jamaica, Thighs High, Fungi Mama, Let's Dance and Secret Fantasy. To date, Tom has over sixteen solo projects on the market, including the very recent Neo-Soul/Jazz sizzler entitled Legacy, released in mid 2016.
Episode Notes
This episode was recorded June 11, 2020.