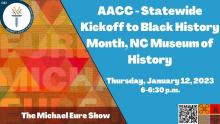 African American Cultural Celebration/Kickoff to Black History Month
Join in an interactive discussion about the 2023 African American Cultural Celebration, which serves as the statewide kickoff to Black History Month at the North Carolina Museum of History. Wake Tech student co-hosts Taj Hewitt and Damien Johnson have a conversation featuring Emily Grant and Obelia Exum from the museum, as well as Wake Tech graduate David Kwan and others associated with the event. Special thanks to the Wake Tech Diversity, Equity and Inclusion Council for partnering with us.
Published on:
May. 31, 2023
Episode Notes
This episode was streamed on January 12, 2023.