The SunTrust Foundation Center for Financial Education is committed to offering money management programs that financially empower students, staff, and the community alike. Learn skills that can move you toward a promising, rewarding future.
This semester the Center will be hosting:
Financial Empowerment Workshops
Games, contests, and challenges
Special events and campus promotions
A complimentary online learning center
And much more!
We welcome all Wake Tech students to join in the fun and educational activities. If you think you need to know more about money, join us and pick up practical financial skills.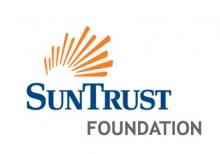 Special Thanks
The SunTrust Foundation generously supports the Center for Financial Education to help students gain financial knowledge that can improve their lives.

The Center for Financial Education app is now available. Videos, quick tips, and interactive platform help you learn essential money management lessons that range from budgeting to paying for school and paying off debt.
Free Download at iTunes
---