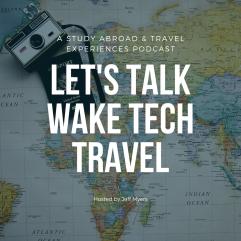 Let's Talk Wake Tech Travel
This podcast is all about the past travel experiences of our students, faculty, staff and community members of Wake Tech between 2012 - 2020.   The podcast will also include tops on country overviews, how to prepare to travel, the benefits of travel, upcoming destinations, and other travel and study abroad related topics.
Let's Talk Wake Tech Travel in the News: https://www.explorica.com/blog/teachers-desk-travel-podcast
~ Hosted By ~

Jeff Myers
Subscribe & Listen
Available on:
~ Episode Library ~
Oct 25, 2020

Interview with Mr. Henton Morton who joined us on our Dubai trip 2019
Henton Morton has been to 23 countries, 20 cruises and is definitely a world traveler. Henton is a Senior Detective in Raleigh and has been on our Wake Tech Board of Directors for the last two years.


Oct 11, 2020

Kyla Sanderson interview about her 2018 summer Study Abroad trip to Salzburg Austria
Kyla Sanderson, a recent graduate of UNC Charlotte in Marketing landed her dream job a month after graduation. Kyla went with Wake Tech back in 2018 to Salzburg Austria and was part of a large group. She loved the trip and made a ton of friends. Congrats Kyla!


Aug 23, 2020

An interview with Vesabett Rodriguez who joined our 2019 summer trip to Salzburg.
Ms. Rodriguez went with us to Austria summer 2019. She now wants to travel the world and is planning to head to Thailand for her 21st B day! Hear her take on traveling and what she is studying to complete her 4 year degree.


Aug 09, 2020

Mexico City trip 2019. Why did I go?
Mexico City offers more than you can imagine. A city with 22 million people, pyramids, museums and biking incredible restaurants. Yes, it is safe. I will tell you all about it.


Aug 06, 2020

My 2016 trip to Bucharest Romania. An incredible city in Eastern Europe
Back in 2016, I visited a place I always wanted to see since the fall of Communism in 1989. Romania is beautiful, affordable and has a mix of the present and past. It's a place you want to go for sure.