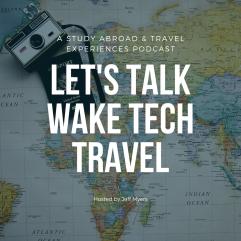 Let's Talk Wake Tech Travel
This podcast is all about the past travel experiences of our students, faculty, staff and community members of Wake Tech between 2012 - 2020.   The podcast will also include tops on country overviews, how to prepare to travel, the benefits of travel, upcoming destinations, and other travel and study abroad related topics.
Let's Talk Wake Tech Travel in the News: https://www.explorica.com/blog/teachers-desk-travel-podcast
~ Hosted By ~

Jeff Myers
Subscribe & Listen
Available on:
~ Episode Library ~
Jul 05, 2020

My interview with Justen Bethel from our 2018 summer study abroad Salzburg program
Justen Bethel talks Salzburg 2018, the friends he has made and what this summer trip did for him. That trip was Justen's first flight and trip out of the country. You can guess he was extremely excited. Now, he is finishing his college career in Supply Chain Management and really hopes to be working for Cisco... His dream job!!


Jul 01, 2020

My interview with Dr. Asfari of Wake tech on Islamophobia.
Dr. Amin Asfari of Wake Tech discusses Islamophobia and touches on the high profile 2015 triple murder case in Chapel Hill, NC. His cousin along with his cousins wife and his cousin's wife's sister were murdered by a white neighbor over parking. This event sparked rallies locally, nationally and worldwide. Hear him talk on the podcast.


Jun 28, 2020

An interview with Forbes Dixon on his travels with me both 2018 and 2019 to Salzburg Austria
Forbes Dixon teaches economics at Wake Tech and for the two past summers has taught with me in Salzburg Austria. He loves Austria! Hear his overview on how the trip impacts student success.


Jun 26, 2020

Aubrey Nagle interview about her 2018 summer study abroad in Salzburg Austria
Nobody to date on this podcast sounds more excited to talk about studying in Salzburg Austria! Aubrey, who lives in Raleigh but is from Toronto Canada cannot stop thinking about and talking about that three week trip. Trust me, you will hear it on this episode!


Jun 23, 2020

Damanpreet Johal, our former North Wake Tech International club president talks Travel
Damanpreet went with us to Salzburg in 2017 and is a recent graduate of William Peace University. She is looking into getting her Masters in the fall. She was a 2017 participant to Salzburg and loves travel. She is from India and loves Canada of which she has been there now 10 times. At Wake Tech she ran a very successful international friends club and coordinated two major shows full of talented singers, dancers and guest speakers. Hear her thoughts on being a traveler.