Plus 50 Lifelong Learning
---
Plus 50 Sites and Programs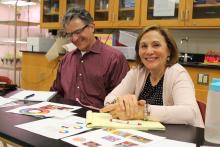 In addition to courses offered at various Wake Tech campuses and sites, we offer programs at senior centers, community and recreation sites throughout Wake County:
| | | |
| --- | --- | --- |
| Apex Community Center | 919-249-3402 | 53 Hunter St, Apex, NC 27502 |
| Cary Senior Center | 919-469-4061 | 120 Maury Odell Pl, Cary, NC 27513 |
| Cedar Fork Community Center | 919-463-7100 | 1050 Town Hall Dr, Morrisville, NC 27560 |
| Eastern Wake Senior Center | 919-365-4248 | 323 Lake Drive Wendell, NC 27591 |
| Garner Senior Center | 919-779-0122 | 205 E Garner Rd, Garner, NC 27529 |
| Knightdale Recreation Center | 919-217-2232 | 101 Lawson Ridge Rd. Knightdale, NC 27545 |
| Northern Wake Senior Center | 919-554-4111 | 235 E Holding Ave, Wake Forest, NC 27587 |
---
Become an Entrepreneur
You may have dreamed of starting a business or turning hobbies or volunteer work into a money-making operation. Wake Tech's Small Business Center and Entrepreneurship Initiatives programs have resources to help get you started. Talk with an SBC advisor (live and in person!) in a free, confidential session, any time questions arise.
Retired to Re-hired!
Going back into the workforce can be daunting: You may wonder about your tech skills or generation gaps in the workplace - or you may be seeing a challenge you haven't identified yet. Wake Tech's Career Transitions Forum is a great place to start. This unique, weekly series of lectures and networking activities brings professionals together to share ideas and experience in a supportive environment. 
---
Course Details & Registration Information
Hire Yourself: Create Your Own Career
HRD-3004BM2
Explore opportunities for self-employment with little startup expenses. Learn about various possibilities for launching and developing a business of your own and how to get started. If your work history is less than ideal or if you have limited education, a criminal record,...
Income Tax Planning 101
SEF-3001ER2
Learn about personal income tax returns, deductions, IRA contributions, tax-saving strategies, and more. This course is part of the Finance Academy series, for those who want to know more about investing, home buying, long-term care, and retirement.
Lecture Presentation Series, Microsoft Windows 10
CSP-4000EA2
This Lecture Presentation Series topic titled 'Microsoft Windows 10' will explain the announcement by Microsoft on their latest Operating System (OS). The PowerPoint presentation will cover the new enhancements being introduced, who is entitled to the free upgrade, and how...
Microsoft Computer Class 401
CSP-4000DT2
This course is for knowledgeable users and system administrators. It explores Microsoft releases and versions and how they differ, computer file structure, advanced features dealing with security, and administrator tools. It also covers operational uses needed to maintain Mi...
Planning the Entrepreneurial Venture
SEF-80101
Assess your own entrepreneurial abilities and the feasibility of your business ideas. Over the course of eight three-hour sessions, you'll develop a business plan for starting and running a new business (or operating an existing one). You'll examine every element of a busine...
Re-BOOST Your Career Prospects
HRD-3001BO2
Develop career skills through Wake Tech's partnership with Passage Home Safety Club and find paying positions. You will assess your current knowledge, skills, and abilities and develop a plan to advance in the world of work. This course helps you build a positive self-concep...
Resources for Seniors
CSP-4000HY2
A collective of resources and informed choices for the maximum independence of older adults, adults with disabilities, and veterans. The course will cover volunteerism and opportunities for businesses to be involved with seniors. Class discussion, participation, and input wi...
Retired to Rehired
HRD-3003G2
If you've retired but want a second career – or just more income – you can improve our finances with employment related to your skills and interests. Learn about job search techniques and ways to tap into the "hidden" job market. Find out how to tailor your resume to target...
Sales for People Who Don't Like to Sell
SEF-3001W1
In this course, students will learn and practice basic sales techniques, from the initial introduction stage through closing the sale and maintaining ongoing relationships. The course covers understanding sales, knowing your product and market, identifying relevant decision...
The Biology of Aging
CSP-4000IP2
What is the process of aging? Learn about the biology of aging by exploring the various physical and emotional characteristics that are normal to the aging process. Students will discover programs available to understand and improve quality of life during the aging process.