Plus 50 Lifelong Learning
---
Plus 50 Sites and Programs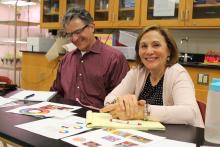 In addition to courses offered at various Wake Tech campuses and sites, we offer programs at senior centers, community and recreation sites throughout Wake County:
| | | |
| --- | --- | --- |
| Apex Community Center | 919-249-3402 | 53 Hunter St, Apex, NC 27502 |
| Cary Senior Center | 919-469-4061 | 120 Maury Odell Pl, Cary, NC 27513 |
| Cedar Fork Community Center | 919-463-7100 | 1050 Town Hall Dr, Morrisville, NC 27560 |
| Eastern Wake Senior Center | 919-365-4248 | 323 Lake Drive Wendell, NC 27591 |
| Garner Senior Center | 919-779-0122 | 205 E Garner Rd, Garner, NC 27529 |
| Knightdale Recreation Center | 919-217-2232 | 101 Lawson Ridge Rd. Knightdale, NC 27545 |
| Northern Wake Senior Center | 919-554-4111 | 235 E Holding Ave, Wake Forest, NC 27587 |
---
Become an Entrepreneur
You may have dreamed of starting a business or turning hobbies or volunteer work into a money-making operation. Wake Tech's Small Business Center and Entrepreneurship Initiatives programs have resources to help get you started. Talk with an SBC advisor (live and in person!) in a free, confidential session, any time questions arise.
Retired to Re-hired!
Going back into the workforce can be daunting: You may wonder about your tech skills or generation gaps in the workplace - or you may be seeing a challenge you haven't identified yet. Wake Tech's Career Transitions Forum is a great place to start. This unique, weekly series of lectures and networking activities brings professionals together to share ideas and experience in a supportive environment. 
---
Course Details & Registration Information
Planning the Entrepreneurial Venture
SEF-80101
Assess your own entrepreneurial abilities and the feasibility of your business ideas. Over the course of eight three-hour sessions, you'll develop a business plan for starting and running a new business (or operating an existing one). You'll examine every element of a busine...
Re-BOOST Your Career Prospects
HRD-3001BO2
Develop career skills through Wake Tech's partnership with Passage Home Safety Club and find paying positions. You will assess your current knowledge, skills, and abilities and develop a plan to advance in the world of work. This course helps you build a positive self-concep...
Resources for Seniors
CSP-4000HY2
A collective of resources and informed choices for the maximum independence of older adults, adults with disabilities, and veterans. The course will cover volunteerism and opportunities for businesses to be involved with seniors. Class discussion, participation, and input wi...
Retired to Rehired
HRD-3003G2
If you've retired but want a second career – or just more income – you can improve our finances with employment related to your skills and interests. Learn about job search techniques and ways to tap into the "hidden" job market. Find out how to tailor your resume to target...
Sales for People Who Don't Like to Sell
SEF-3001W1
In this course, students will learn and practice basic sales techniques, from the initial introduction stage through closing the sale and maintaining ongoing relationships. The course covers understanding sales, knowing your product and market, identifying relevant decision...
The Ageless Home™: Ageless Living by Design
CSP-4000JC2
If you want to buy a home, build a home, or renovate, this course will empower you to create the perfect environment for ALL ages. America's active housing population ranges from 24-78 years old. Ageless design and product placement will help you create an environment that c...
The Biology of Aging
CSP-4000IP2
What is the process of aging? Learn about the biology of aging by exploring the various physical and emotional characteristics that are normal to the aging process. Students will discover programs available to understand and improve quality of life during the aging process.
The Road to Retirement
CSP-4000ED2
Are you nearing or considering retirement? This course will teach you how to integrate important concepts to help you prepare for retirement. In addition, you will find out how to fight off the effects of inflation, avoid unnecessary taxes, and protect yourself from the pote...
Veterans Entrepreneurship Advantage
SEF-3001V1
Assess your potential as an entrepreneur and the feasibility of your business or idea, and learn how your military experience can help. In eight three-hour sessions, you'll learn how to develop a comprehensive business plan for your new or existing business and create a firs...