Plus-50 Lifelong Learning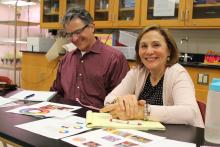 Wake Tech offers courses designed especially for adults age 50 or older that can help you discover a new career, improve your job search skills, plan for retirement or explore personal interests. The Plus-50 program has courses that range from such as yoga to dance to Spanish to scrapbooking.
In addition to courses offered at various Wake Tech campuses and sites, we offer programs at senior centers, community and recreation sites throughout Wake County. If you take a course at a location other than a Wake Tech campus, you must register for the course at that specific location.
Partner sites and senior centers
Become an entrepreneur
You may have dreamed of starting a business or turning hobbies or volunteer work into a money-making operation. Wake Tech's Small Business Center (SBC) and Entrepreneurship Initiatives programs have resources to help get you started. Talk with an SBC advisor in a free, confidential session any time questions arise.
Retired to rehired
Going back into the workforce can be daunting. You may wonder about your tech skills or generation gaps in the workplace – or you may be seeing a challenge you haven't identified yet. Wake Tech's Career Transitions Forum is a great place to start. The unique, weekly series of lectures and networking activities brings professionals together to share ideas and experience in a supportive environment. 
Course details and registration information
Planning the Entrepreneurial Venture
SEF-80101
Assess your own entrepreneurial abilities and the feasibility of your business ideas. Over the course of eight three-hour sessions, you'll develop a business plan for starting and running a new business (or operating an existing one). You'll examine every element of a busine...
Sales for People Who Don't Like to Sell
SEF-3001W1
In this course, students will learn and practice basic sales techniques, from the initial introduction stage through closing the sale and maintaining ongoing relationships. The course covers understanding sales, knowing your product and market, identifying relevant decision...
Spanish Intermediate Part 2
FLI-3717U3
This course is the second intermediate-level course in the series. The course will further students' Spanish language skills through writing, reading, presentations, and in-class conversations. Homework and class participation are keys to the building and reinforcement of l...
Veterans Entrepreneurship Advantage
SEF-3001V1
Assess your potential as an entrepreneur and the feasibility of your business or idea, and learn how your military experience can help. In eight three-hour sessions, you'll learn how to develop a comprehensive business plan for your new or existing business and create a firs...
Wake Tech Auctioneer Academy
MKT-3093A2
Are you ready to become an auctioneer? Taking bids now! This course provides a working knowledge of the auction business, including conducting auctions, ethics, contract drafting, bid calling, basic mathematical computations and percentages, advertising, settlement statement...