Plus 50 Lifelong Learning
Plus 50 Expo

Free event!
Tuesday, March 13, 2018
9 a.m. - 12 p.m.
Wake Tech Northern Wake Campus
Building K

Sample Wake Tech's Lifelong Learning classes and services, and attend presentations from community partners. The event features vendor booths, refreshments, workshops, and opportunities to speak with Wake Tech staff about your "next move!"

---

Interested in having a booth at the Plus 50 Expo?
Or have your business featured at the event?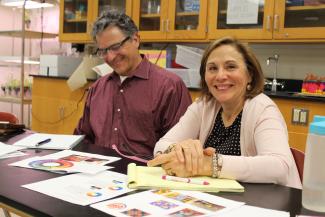 Wake Tech offers courses designed especially for adults 50 and over that can help you discover a new career, improve your job search skills, plan for retirement, or explore personal interests. 
At our Plus 50 events, you can sample courses and attend presentations from community experts on a wide variety of topics - small business counseling, long-term healthcare, retirement, beer brewing, flying commercial drones, and much more! Stay tuned for announcements about upcoming Plus 50 events. 
---
Check out these programs and resources:
Become an Entrepreneur
You may have dreamed of starting a business or turning hobbies or volunteer work into a money-making operation. Wake Tech's Small Business Center and Entrepreneurship Initiatives programs have resources to help get you started. Talk with an SBC advisor (live and in person!) in a free, confidential session, any time questions arise.
Retired to Re-hired!
Going back into the workforce can be daunting: You may wonder about your tech skills or generation gaps in the workplace - or you may be seeing a challenge you haven't identified yet. Wake Tech's Workforce Continuing Education division can help -- and the Career Transitions Forum is a great place to start. This unique, weekly series of lectures and networking activities brings professionals together to share ideas and experience in a supportive environment. 
---
Course Details & Registration Information
History Through Art
CSP-4000FT2
This course examines how history is portrayed in images and artifacts as opposed to words. In some cases, images and text combine to enhance the story, while in others, they may confuse or mislead. This course series presents an introduction to the concept of Healing Arts, A...
Horticulture Therapy for Seniors
CSP-4000ES2
Would you like to create a beautiful centerpiece or arrangement for your home? This course will show you how! You'll learn how to choose and care for a variety of plants, and how to design a decorative piece using color, shape, size, and container – in traditional and more m...
Lecture Presentation Series, Microsoft Windows 10
CSP-4000EA2
This Lecture Presentation Series topic titled 'Microsoft Windows 10' will explain the announcement by Microsoft on their latest Operating System (OS). The PowerPoint presentation will cover the new enhancements being introduced, who is entitled to the free upgrade, and how...
Microsoft Computer Class 401
CSP-4000DT2
This course is for knowledgeable users and system administrators. It explores Microsoft releases and versions and how they differ, computer file structure, advanced features dealing with security, and administrator tools. It also covers operational uses needed to maintain Mi...
N Carolina History and Culture
CSP-4000IL3
Are you new to North Carolina – or perhaps just a bit rusty on what you learned about the "Land of the Longleaf Pine" in 4th grade? This course explores North Carolina and all that makes it a great place to visit, or to live! Learn about NC's beautiful and exciting destinati...
North Carolina History and Culture
CSP-4000DH2
Are you new to North Carolina? This state has it all, from beautiful beaches to magnificent mountains, and from small towns to vibrant cities. Learn what makes it a great place to visit and a great place to live! This course begins on Friday evening with a sampling of NC foo...
North Carolina History: From Peak to Sea
CSP-4000U2
North Carolina has three distinct regions: Mountains, Piedmont, and Coastal Plain. Each has defining features, including the character of the people; the geology, geography, and commerce; and the climate. This class is presented in three sessions, with each focused on a part...
Passport to Retirement
CSP-4000ED2
You'll learn how to integrate important concepts to help you prepare for retirement. In addition, you will find out how to fight off the effects of inflation, avoid unnecessary taxes, and protect yourself from the potentially devastating costs associated with long-term care...
Planning the Entrepreneurial Venture
SEF-80101
Assess your own entrepreneurial abilities and the feasibility of your business ideas. Over the course of eight three-hour sessions, you'll develop a business plan for starting and running a new business (or operating an existing one). You'll examine every element of a busine...
Re-BOOST Your Career Prospects
HRD-3001BO2
Develop career skills through Wake Tech's partnership with Passage Home Safety Club and find paying positions. You will assess your current knowledge, skills, and abilities and develop a plan to advance in the world of work. This course helps you build a positive self-concep...