Plus 50 Lifelong Learning
Wake Tech's Plus 50 program offers courses such as yoga, dance, Spanish, and scrapbooking. If you take a course at a location other than a Wake Tech campus such as a senior center, then you must register for a course at that specific senior center.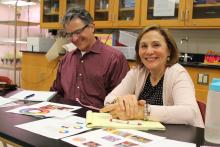 In addition to courses offered at various Wake Tech campuses and sites, we offer programs at senior centers, community and recreation sites throughout Wake County. 
Partner sites and senior centers
---
Become an Entrepreneur
You may have dreamed of starting a business or turning hobbies or volunteer work into a money-making operation. Wake Tech's Small Business Center and Entrepreneurship Initiatives programs have resources to help get you started. Talk with an SBC advisor (live and in person!) in a free, confidential session, any time questions arise.
Retired to Re-hired!
Going back into the workforce can be daunting: You may wonder about your tech skills or generation gaps in the workplace - or you may be seeing a challenge you haven't identified yet. Wake Tech's Career Transitions Forum is a great place to start. This unique, weekly series of lectures and networking activities brings professionals together to share ideas and experience in a supportive environment. 
---
Course Details & Registration Information
Financial Planning in the Shadow of Dementia
CSP-4000HT2
Today more than 15 million Americans are caring for an individual with Alzheimer's disease or another form of dementia. As Baby Boomers continue to age, the number of people needing care is expected to grow exponentially. Learn about the importance of financial planning in t...
Forex Trading
SEF-3001MI2
Learn how to trade and invest in foreign exchange! Through class instruction, demonstration and practice you will learn about the foreign currency market and how to trade. Terminology, structuring, theories, and analyzing trends will all be part of this exciting hands-on cla...
Gentle Yoga Utilizing Props
CSP-4000HC2
Yoga is a whole-body exercise program for people of all ages. Yoga focuses on uniting the body, mind and spirit through movement, breathing and relaxation. With the help of props like chairs and towels, students can learn poses to achieve proper alignment and fit their own b...
Grieve the Write Way
CSP-4000IX2
Grief is as individual and unique an experience as we are individual and unique human beings. This class features guided writing exercises to allow those struggling with grief and loss of any kind to start the healing process – or to continue on a path toward healing.
Healthy Aging
SEF-7999E
As the U.S. population ages, opportunities abound for working with seniors in various settings that support quality of life. This certificate program presents an overview of the aspects of aging and health in the later years. It helps to build a foundation for the treatment...
Hire Yourself: Create Your Own Career
HRD-3004BM2
Explore opportunities for self-employment with little startup expenses. Learn about various possibilities for launching and developing a business of your own and how to get started. If your work history is less than ideal or if you have limited education, a criminal record,...
Lecture Presentation Series, Microsoft Windows 10
CSP-4000EA2
This Lecture Presentation Series topic titled 'Microsoft Windows 10' will explain the announcement by Microsoft on their latest Operating System (OS). The PowerPoint presentation will cover the new enhancements being introduced, who is entitled to the free upgrade, and how...
Maximizing Social Security
CSP-4000JP2
There are thousands of options for claiming your Social Security, and retirees and pre-retirees are understandably apprehensive about making a costly mistake and filing for benefits at the wrong time. Whether you're single, married, divorced, or widowed, this course will giv...
Planning the Entrepreneurial Venture
SEF-80101
Assess your own entrepreneurial abilities and the feasibility of your business ideas. Over the course of eight three-hour sessions, you'll develop a business plan for starting and running a new business (or operating an existing one). You'll examine every element of a busine...
Re-BOOST Your Career Prospects
HRD-3001BO2
Develop career skills through Wake Tech's partnership with Passage Home Safety Club and find paying positions. You will assess your current knowledge, skills, and abilities and develop a plan to advance in the world of work. This course helps you build a positive self-concep...