Plus 50 Lifelong Learning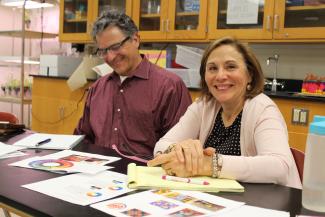 Wake Tech offers courses designed especially for adults 50 and over that can help you discover a new career, improve your job search skills, plan for retirement, or explore personal interests. 
---
Check out these programs and resources:
Become an Entrepreneur
You may have dreamed of starting a business or turning hobbies or volunteer work into a money-making operation. Wake Tech's Small Business Center and Entrepreneurship Initiatives programs have resources to help get you started. Talk with an SBC advisor (live and in person!) in a free, confidential session, any time questions arise.
Retired to Re-hired!
Going back into the workforce can be daunting: You may wonder about your tech skills or generation gaps in the workplace - or you may be seeing a challenge you haven't identified yet. Wake Tech's Career Transitions Forum is a great place to start. This unique, weekly series of lectures and networking activities brings professionals together to share ideas and experience in a supportive environment. 
---
Course Details & Registration Information
Course
Income Tax Planning 101
Name
SEF-3001ER2
Available Classes
Intended Audience
People interested learning about IRAs and taxes deductions
Description
Learn about personal income tax returns, deductions, IRA contributions, tax-saving strategies, and more. This course is part of the Finance Academy series, for those who want to know more about investing, home buying, long-term care, and retirement.
Course Objectives
learn about tax deductions and IRAs.
Outline of Instruction
Schedule A – how to make the most of your itemized deductions
Should you contribute to a Roth IRA or Traditional IRA?
You can deduct that?
Understanding IRA required minimum distributions
How to take money out of your IRA before age 59 ½ without penalty
Contact Hours
2.5
CEU's
No
Industry Standard, State, or National Certification
No
CE to CU Articulation
No
Prerequisites
None
Text and Supplies Needed
None
Clinical Site/Special Facilities
None
Requirements for Successful Completion of this Course
Attendance 100%
Participation
Accreditation/Special Approval Requirements
None
Intended Audience
People interested learning about IRAs and taxes deductions
Specific Industry or Business Support Needs
Industry or Job Titles Related to training Outcomes for Employment
Related Courses
The Road to Retirement - CSP-4000ED2
Investment Strategies for Reaching Financial Goals - CSP-4000FB3
Income Tax for Preparers - ACC-3104A1
Behavioral Finance - SEF-3001AB2
Course Contact Information
Michael Langer
919-532-5526