Plus 50 Lifelong Learning
Wake Tech's Plus 50 program offers courses such as yoga, dance, Spanish, and scrapbooking. If you take a course at a location other than a Wake Tech campus such as a senior center, then you must register for a course at that specific senior center.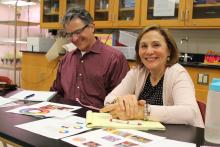 In addition to courses offered at various Wake Tech campuses and sites, we offer programs at senior centers, community and recreation sites throughout Wake County. 
Partner sites and senior centers
Become an Entrepreneur
You may have dreamed of starting a business or turning hobbies or volunteer work into a money-making operation. Wake Tech's Small Business Center and Entrepreneurship Initiatives programs have resources to help get you started. Talk with an SBC advisor (live and in person!) in a free, confidential session, any time questions arise.
Retired to Re-hired!
Going back into the workforce can be daunting: You may wonder about your tech skills or generation gaps in the workplace - or you may be seeing a challenge you haven't identified yet. Wake Tech's Career Transitions Forum is a great place to start. This unique, weekly series of lectures and networking activities brings professionals together to share ideas and experience in a supportive environment. 
Course Details & Registration Information
Course
Career Transitions Forum: Lecture Series for Business Professionals
Name
HRD-3006X2
Overall Quality of This Course
Based on 6 student surveys.
Available Classes
Intended Audience
Job Seekers in a Professional Field
Description
Are you changing careers? This course is for you. Enjoy lectures, activities, and opportunities for networking and support. Topics vary weekly and incorporate professional community resources that provide a current, real-world perspective on the job market. Craft strategies for addressing issues and challenges. Enter the program at any time.
Course Objectives
(1) have received and discovered new ideas and skills to incorporate into their professional repertoire for gaining employment;
(2) have had the opportunity to evaluate, synthesize and discriminate information that is relatable and applicable to their job search and professional development;
(3) have gained a current real-world perspective of opportunities, skills development and challenges for a career transition;
(4) have networked with other job seeking professionals.
Outline of Instruction
Lectures, lessons or activities will fall under one of the following core components and competency areas: Assessment, Self-Concept, Employability Skills, Communication Skills, Problem-Solving Skills and Information Technology. Lectures and topics (titles) will be determined on the availability of the speaker, and would include titles such as, but not limited to, the following in order to support HRD's components and competency areas.

1. Behavioral Interviews
2. Power Stories: Pitches and PARs
3. Critical Communications in Job Search
4. Using research to Power a Winning Job Search
5. Handling the Interview: Strategies and Tactics
6. How to Really Prepare for an Interview
7. Compensation - From the Company's Perspective
8. Research for Winning job Search
9. Income Tax & Finance Organization Tips for Job Seekers
10. Wake Tech HRD/CRC Overview
11. Leveraging LinkedIn
12.Facing the Interview - Strategies
13. Regain Your Vision
14. Communication Strategies for landing a Job
15. Your Rights as A Job Seeker
16. A Recruiter's Perspective
17. Getting Along in the Workplace?
18. How to Overcome Stressful Situations So You Can Move On
19. How to Increase Your Influence, Credibility and Confidence
20. What Are You Worth?
21. Personal Branding
22. Networking: A New Mindset
23. World of Triangle Non-Profits, Volunteering and Job Opportunities
Contact Hours
25
CEU's
No
Industry Standard, State, or National Certification
No
CE to CU Articulation
No
Prerequisites
N/A
Text and Supplies Needed
Materials will be provided.
Clinical Site/Special Facilities
N/A
Requirements for Successful Completion of this Course
Attendance 80% or above
Participation
There is no attendance requirement to successfully complete this course.
Accreditation/Special Approval Requirements
N/A
Intended Audience
Job Seekers in a Professional Field
Specific Industry or Business Support Needs
Industry or Job Titles Related to training Outcomes for Employment
Related Courses
Course Contact Information
HRD Office http://hrd.waketech.edu
919-532-5694 or 919-532-5696