Plus 50 Lifelong Learning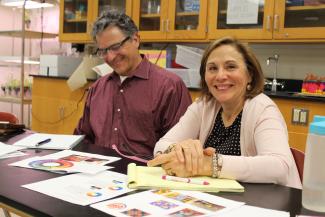 Wake Tech offers courses designed especially for adults 50 and over that can help you discover a new career, improve your job search skills, plan for retirement, or explore personal interests. 
---
Check out these programs and resources:
Become an Entrepreneur
You may have dreamed of starting a business or turning hobbies or volunteer work into a money-making operation. Wake Tech's Small Business Center and Entrepreneurship Initiatives programs have resources to help get you started. Talk with an SBC advisor (live and in person!) in a free, confidential session, any time questions arise.
Retired to Re-hired!
Going back into the workforce can be daunting: You may wonder about your tech skills or generation gaps in the workplace - or you may be seeing a challenge you haven't identified yet. Wake Tech's Career Transitions Forum is a great place to start. This unique, weekly series of lectures and networking activities brings professionals together to share ideas and experience in a supportive environment. 
---
Course Details & Registration Information
Course
Retired to Rehired
Name
HRD-3003G2
Available Classes
Intended Audience
Seasoned job seekers who are unemployed or underemployed
Description
This class will explore job search techniques for retired individuals who plan to seek gainful employment. The course will cover finding the right position to fit the retired individual's lifestyle. Students will explore techniques for tapping into the hidden job market. Students will learn techniques for finding open positions in the public, private, and nonprofit sectors. The class will also cover ways to cater resumes to target specific positions.
Course Objectives
have learned about career planning and assessment information relevant to retired adults.
have assessed assets and limitations related to employment.
have fostered the development of a positive self-concept for career success.
have developed communication skills needed to obtain gainful employment.
have set measurable, obtainable goals for the job search.
Outline of Instruction
Module 1 - Understanding your value in the world of work
Module 2 - Making a work wish list
Module 3 - Uncovering and overcoming barriers to employment
Module 4 - Preparing for traditional and nontraditional job searches
Module 5 - Developing a strong resume
Module 6 - Winning in the interview
Contact Hours
12
CEU's
No
Industry Standard, State, or National Certification
No
CE to CU Articulation
No
Prerequisites
N/A
Text and Supplies Needed
Clinical Site/Special Facilities
Requirements for Successful Completion of this Course
Attendance 95% or above
Participation
Accreditation/Special Approval Requirements
Intended Audience
Seasoned job seekers who are unemployed or underemployed
Specific Industry or Business Support Needs
Industry or Job Titles Related to training Outcomes for Employment
Related Courses
Learning New Tricks: Seeking Employment as a Mature Professional - HRD-3006V2
How To Get The Success You Want - HRD-3003X2
Course Contact Information
HRD Office http://hrd.waketech.edu
919-532-5694 or 919-532-5696