Plus 50 Lifelong Learning
---
Plus 50 Sites and Programs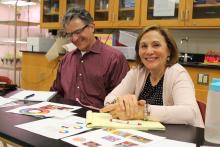 In addition to courses offered at various Wake Tech campuses and sites, we offer programs at senior centers, community and recreation sites throughout Wake County:
---
Example offsite courses include yoga, dance, Spanish, and scrapbooking.  One must register at the specific senior center for these courses and to see the list of classes available.
Become an Entrepreneur
You may have dreamed of starting a business or turning hobbies or volunteer work into a money-making operation. Wake Tech's Small Business Center and Entrepreneurship Initiatives programs have resources to help get you started. Talk with an SBC advisor (live and in person!) in a free, confidential session, any time questions arise.
Retired to Re-hired!
Going back into the workforce can be daunting: You may wonder about your tech skills or generation gaps in the workplace - or you may be seeing a challenge you haven't identified yet. Wake Tech's Career Transitions Forum is a great place to start. This unique, weekly series of lectures and networking activities brings professionals together to share ideas and experience in a supportive environment. 
---
Course Details & Registration Information
Course
Grieve the Write Way
Name
CSP-4000IX2
Available Classes
Intended Audience
Those that would like to help someone or that are struggling with grief and loss or simply wishing to continue along a path toward healing.
Description
Grief is as individual and unique an experience as we are individual and unique human beings. This class features guided writing exercises to allow those struggling with grief and loss of any kind to start the healing process – or to continue on a path toward healing.
Course Objectives
learn to help those struggling with grief and loss to either kick start the healing process or continue along a path toward healing by both addressing and processing grief and loss through prompt, narrative and experiential guided writing.
Outline of Instruction
Sentence filler guided prompts
*7 separate prompts
*free writing on each prompt for 2 minutes
*sharing short paragraphs
Using poetry adaptation with well-known poems
*group brainstorming word lists about before loss and after loss
*hand out poem and read aloud
*hand out poem with blanks within the body of the poem
*rewrite or adapt poem with own set of words (can refer to group brainstorm list to assist)
*sharing new adapted poem
Narrative writing
*One shared starting guided prompt for group, story starter
*Several words spoken during writing period (10 words), one word each 1.5-minute time period while ongoing writing
*sharing story
Letter writing and journaling
*Write a letter to your loss or write a journal entry about how you feel today about your loss
*sharing entry or letter
Contact Hours
6
CEU's
No
Industry Standard, State, or National Certification
No
CE to CU Articulation
No
Prerequisites
None
Text and Supplies Needed
Notebook and pen/pencil
Clinical Site/Special Facilities
Requirements for Successful Completion of this Course
Attendance 100%
Participation
Accreditation/Special Approval Requirements
Intended Audience
Those that would like to help someone or that are struggling with grief and loss or simply wishing to continue along a path toward healing.
Specific Industry or Business Support Needs
Industry or Job Titles Related to training Outcomes for Employment
Related Courses
Course Contact Information
Michael Langer
919-532-5526