Plus 50 Lifelong Learning
---
Plus 50 Sites and Programs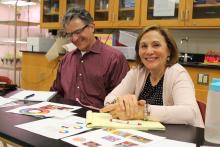 In addition to courses offered at various Wake Tech campuses and sites, we offer programs at senior centers, community and recreation sites throughout Wake County:
| | | |
| --- | --- | --- |
| Apex Community Center | 919-249-3402 | 53 Hunter St, Apex, NC 27502 |
| Cary Senior Center | 919-469-4061 | 120 Maury Odell Pl, Cary, NC 27513 |
| Cedar Fork Community Center | 919-463-7100 | 1050 Town Hall Dr, Morrisville, NC 27560 |
| Eastern Wake Senior Center | 919-365-4248 | 323 Lake Drive Wendell, NC 27591 |
| Garner Senior Center | 919-779-0122 | 205 E Garner Rd, Garner, NC 27529 |
| Knightdale Recreation Center | 919-217-2232 | 101 Lawson Ridge Rd. Knightdale, NC 27545 |
| Northern Wake Senior Center | 919-554-4111 | 235 E Holding Ave, Wake Forest, NC 27587 |
---
Become an Entrepreneur
You may have dreamed of starting a business or turning hobbies or volunteer work into a money-making operation. Wake Tech's Small Business Center and Entrepreneurship Initiatives programs have resources to help get you started. Talk with an SBC advisor (live and in person!) in a free, confidential session, any time questions arise.
Retired to Re-hired!
Going back into the workforce can be daunting: You may wonder about your tech skills or generation gaps in the workplace - or you may be seeing a challenge you haven't identified yet. Wake Tech's Career Transitions Forum is a great place to start. This unique, weekly series of lectures and networking activities brings professionals together to share ideas and experience in a supportive environment. 
---
Course Details & Registration Information
Course
20 Century Art & Times I
Name
CSP-4000HP2
Overall Quality of This Course
Based on 5 student surveys.
Available Classes
Intended Audience
Plus 50 Course
Description
Explore the first 50 years of the 20th Century (1900-1949). This course will highlight major events of each year in culture, science, politics and the arts. Discover how events influence the arts and the arts influence events. Develop a better understanding of the early 20th century.
Course Objectives
learn the interrelated aspects of our world. Context to events and the times in which they occurred will be explained. Participants will be able to assess current events.
Outline of Instruction
1900-1909: Flight, Autos, Quantum Theory, Early Silent Movies, First radio with voice, color photography and more
1910-1919: First crystal-set radio, Rutherford's theory of Atomic Structure, Titanic sinks, Ford's new assembly line, Panama Canal opens, WWI begins and Einstein's Theory of Relativity confirmed.
1920-1929 Women get vote, Vitamin E discovered, Process for sound motion pictures demonstrated, First birth control clinic in NYC, First television transmission, Lindbergh solo, Disney creates Mickey Mouse, and Market crashes.
1930-1939: "Animal Crackers" released, VA created, First woman senator, National anthem adopted, FDR elected, HG Wells predicts approaching war, Night of the Long Knives in Germany, WWII begins and Bolder Dam completed
1940-1949 :First successful helicopter flight in US, Attack on Pearl Harbor, WWII, Atom split, Normandy Invasion, Atomic Bomb, First electronic computer, First airplane breaks sound barrier in US, Transistors, and NATO created
Contact Hours
10
CEU's
No
Industry Standard, State, or National Certification
No
CE to CU Articulation
No
Prerequisites
Text and Supplies Needed
Clinical Site/Special Facilities
Requirements for Successful Completion of this Course
Attendance 90% or above
Participation
Accreditation/Special Approval Requirements
Intended Audience
Plus 50 Course
Specific Industry or Business Support Needs
Industry or Job Titles Related to training Outcomes for Employment
Related Courses
Course Contact Information
Courtney Boney
919-334-1612