Plus 50 Lifelong Learning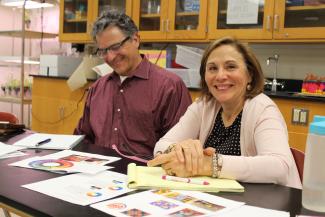 Wake Tech offers courses designed especially for adults 50 and over that can help you discover a new career, improve your job search skills, plan for retirement, or explore personal interests. 
---
Check out these programs and resources:
Become an Entrepreneur
You may have dreamed of starting a business or turning hobbies or volunteer work into a money-making operation. Wake Tech's Small Business Center and Entrepreneurship Initiatives programs have resources to help get you started. Talk with an SBC advisor (live and in person!) in a free, confidential session, any time questions arise.
Retired to Re-hired!
Going back into the workforce can be daunting: You may wonder about your tech skills or generation gaps in the workplace - or you may be seeing a challenge you haven't identified yet. Wake Tech's Career Transitions Forum is a great place to start. This unique, weekly series of lectures and networking activities brings professionals together to share ideas and experience in a supportive environment. 
---
Course Details & Registration Information
Course
Microsoft Computer Class 401
Name
CSP-4000DT2
Overall Quality of This Course
Based on 6 student surveys.
Available Classes
Intended Audience
General, Plus 50, Lifelong Learning
Description
This course is for knowledgeable users and system administrators. It explores Microsoft releases and versions and how they differ, computer file structure, advanced features dealing with security, and administrator tools. It also covers operational uses needed to maintain Microsoft Windows, illustrates the various browsers, and goes into detailed setup and security for the Internet and Web. Each student will become the administrator of their system, they will learn the unique personalization settings and duties of the System Administrator. The function rich topics will cover screen capturing for editing purposes and the ability to function the step recorder and speech recognition capabilities. As System Administrators the computer maintenance and backup procedures becomes all the more important and this class will define exactly what those duties consist of and how to engage.
Course Objectives
Define Microsoft Windows and the various versions

Work with File Management and understand File structure
Explore the Internet interface and security parameters
Experience the System Administrator functions while working with tools and utilities
Use techniques to capture screens, setup recorders, and define Speech Recognition
Perform Computer Maintenance and Backup as Administrators
Outline of Instruction
Day 1
• Microsoft Windows Operating System
• Product and Version Availability
• Start Button / Menu
Day 2
• Review Day 1 topics
• Windows File Management
• Internet Interfaces
• Various Browsers
• Online Security
Day 3
• Review Day 2 topics
• Microsoft Personalization Settings
• Administrative Tools
• Local Security Policy
Day 4
• Review Day 3 topics
• Microsoft Windows Security
• Restore Points
• Screen Capturing
• Step Recording
• Speech Recognition
Day 5
• Review Day 4 topics
• Administrative Maintenance
• Backup and Restore
Day 6 (two hours)
• Review Day 5 topics
• Microsoft Operating System Review
• Microsoft Class 401 practice exercises
Contact Hours
12
CEU's
No
Industry Standard, State, or National Certification
No
CE to CU Articulation
No
Prerequisites
Introduction to Computers or the Computer 101 Class, the Computer 201 Class, and the Computer 301 Class
Text and Supplies Needed
Microsoft Windows 7 Computers for each student with full administrative privileges
Clinical Site/Special Facilities
Requirements for Successful Completion of this Course
Attendance 95% or above
Participation
Be able to complete and understand the practice exercises
Accreditation/Special Approval Requirements
Intended Audience
General, Plus 50, Lifelong Learning
Specific Industry or Business Support Needs
Industry or Job Titles Related to training Outcomes for Employment
Related Courses
Computers 301 - CSP-4000AA5
Computers 201 - CSP-4000AF2
Introduction to Computers - CSP-4000BR2
Course Contact Information
Michael Langer
919-532-5526