911 Telecommunicator Academy
Thinking of answering the call to become a 911 Telecommunicator? Wake Tech has a class for that.
Attend a Required Information Session
NOTE: The Wake Tech 911 Telecommunicator Academy is a two-part program comprised of 480 hours of training. You must complete both parts in order to complete the academy. 
Before you can enroll in Wake Tech's Public Safety Telecommunicator program, you must attend one of our information sessions to learn about the pre-requisites.

Contact Glenn Mitchell for dates and times of upcoming information sessions.
Glenn Mitchell | [email protected] | 919-866-5825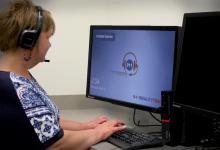 What is a Telecommunicator?
Telecommunicators are not sworn officers, but not your typical clerical/administrative worker either. They are a mix and must be able to comprehend the basics of law and crime, multitask with phones, radios, and computer systems, and act as a "lifeline" in emergency and crisis situations to officers and the public.
Why take this class?
According to the U.S. Department of Labor/Employment and Training Administration, through the year 2026 there are a projected 10,000 job openings for 911 Telecommunicators throughout the United States. Learn the telecommunicator's code of ethics, and how to cope with this high-stress job. Identify crucial terminology, and handle call center equipment. Practice call prioritization, resource allocation, and how each emergency response organization operates.
Get certified!
The NC Sheriff's Office requires its dispatch center telecommunicators to be certified within one year of employment. Employees of other law enforcement agencies are encouraged to take the class to build skills. Training is free for currently employed telecommunicators. Those seeking employment with an agency may also attend, however, class pre-requisites include: Must be 18 years old and must provide and meet the NC Sheriffs' Education and Training Standards requirements, which include a documented medical physical and medical history, and criminal background check. There is a fee for the class for those not currently employed in the profession. 
---
Course Details & Registration Information
Financial Assistance Available!

You may qualify for a scholarship through the WakeWorks Propel program!