Multiple sections of the Three-Wheeled Motorcycle Training class are available.
If you opt to train on a personally-owned trike, please email Courtney Boney at [email protected] for dates, cost, and registration procedures. 

If you opt to train on a Can-Am trike, you can register through the Can-Am portal (select North Carolina as the state and Raleigh as the location). 
Can-Am Portal link
Three Wheel Motorcycle Basic Motorcycle Rider Course
CSP-4000JD2
Need to enhance your 3-wheel motorcycle riding skills? This is a basic, entry-level, learn-to-ride 3-wheel motorcycle training and education course. It provides the same fundamental skills as the MSF Basic RiderCourse, but on 3-wheel, 3-track motorcycles (not sidecars). Ride...
First
|
Previous
| 1
Next
|
Last
Three-Wheeled Motorcycle Rider - additional course details
Course meeting location:
Southern Wake Campus, Howell Library Building, room 11 (map)
Course Cost & Registration Options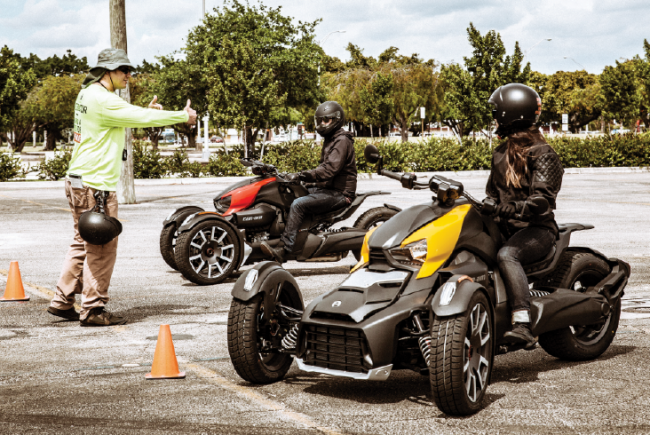 Pre-Requisites
Students must be at least 16 years old
Students under 18 must have a signed waiver form from parent or guardian. 
What to Bring
Your personal DOT-Approved helmet (some loaner helmets are available)
Eye protection, such as sunglasses
Long-sleeved shirt and denim or other heavy material pants should be worn. Sleeves must be kept down at all times, per Motorcycle Safety Foundation rules.
Over the ankle boots
Full-finger gloves
Rain gear (if needed). Class is held rain or shine. 
Food and non-alcoholic beverages are allowed on the motorcycle range.
Refund Policy
If you registered and paid via the Can-Am portal please contact Can-Am 48 hours prior to the class date at 855-226-2646 to rescheduled. Can-Am portal has a "NO Refund" policy. 
For students who DID NO register via the Can-Am portal, but with Wake Tech: If you find that you are unable to attend your assigned class, we may be able to transfer you to the next available class in the current schedule or issue a refund. Requests for transfer/refund must be made in writing. NO REFUNDS AFTER THE CLASS BEGINS.
Our certified rider/coaches are authorized to remove anyone from the course who might pose a danger to themselves or others. We do not anticipate this happening. Additionally, no visitors are allowed on the range. Please do not invite anyone to come and watch, especially minors.