Three-Wheeled Motorcycle Training
Multiple sections of the Three-Wheeled Motorcycle Training class are available.
Sign up and pay via the Can-Am portal. Select North Carolina as the state and Raleigh as the location.
Three Wheel Motorcycle Basic Motorcycle Rider Course
CSP-4000JD2
Need to enhance your 3-wheel motorcycle riding skills? This is a basic, entry-level, learn-to-ride 3-wheel motorcycle training and education course. It provides the same fundamental skills as the MSF Basic RiderCourse, but on 3-wheel, 3-track motorcycles (not sidecars). Ride...
First
|
Previous
| 1
Next
|
Last
Additional course details
Location
Cost and registration options
Promotional rate offered through the Can-Am portal with the opportunity to train on a Can-Am trike. (Select North Carolina as the state and Raleigh as the location)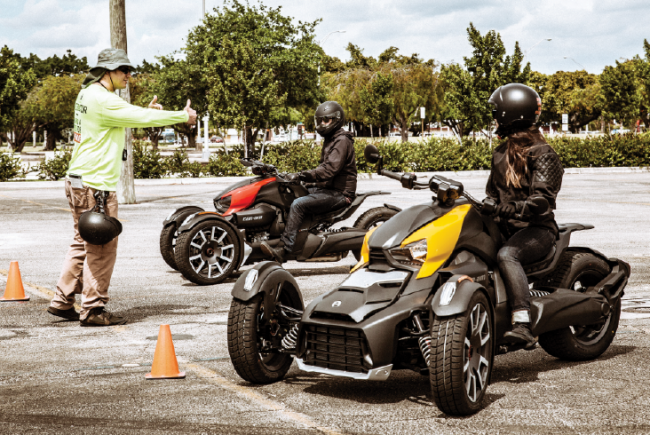 Prerequisites
Students must be at least 16 years old
Students under 18 must have a signed waiver form from parent or guardian. 
What to bring
Your personal DOT-approved helmet (some loaner helmets are available)
Eye protection, such as sunglasses
Long-sleeved shirt and denim or other heavy material pants should be worn. Sleeves must be kept down at all times, per Motorcycle Safety Foundation rules.
Over-the-ankle boots
Full-finger gloves
Rain gear (if needed) – class is held rain or shine
Food and non-alcoholic beverages are allowed on the motorcycle range.
Refund policy
If you have a schedule conflict, email 

[email protected]

 or contact Can-Am at least 48 hours prior to the class date at 855-226-2646 to reschedule. Can-Am has a no refund policy.
General
Our certified rider/coaches are authorized to remove anyone from the course who might pose a danger to themselves or others.
No visitors are allowed on the range. Please do not invite anyone to come and watch, especially minors.