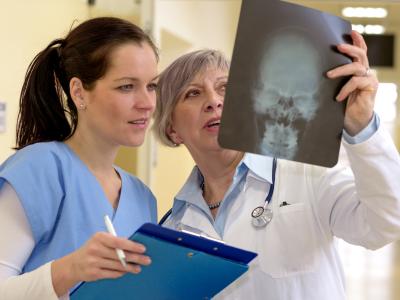 Program Contact
Perry Health Sciences Admissions
Degrees & Pathways
AAS - Associate in Applied Science
About The Program
The Radiography program at Wake Tech is a 21-month program offering an Associate in Applied Science degree. The program prepares the student for a career as a radiographer, a skilled health care professional who uses radiation to produce images of the human body.
Graduates are eligible to take the American Registry of Radiologic Technologists' national examination for certification and registration as medical radiographers. Employment opportunities include hospitals, clinics, physicians' offices, medical laboratories, government agencies and industry.
The Radiography curriculum includes radiographic procedures, radiographic imaging and physics, radiation protection and radiobiology, along with pathology, anatomy and physiology, patient care and management, image analysis, and clinical rotations to area health care facilities. Radiography students will be placed at clinical sites such as WakeMed (Raleigh, North Raleigh and Cary campuses), Duke Health Raleigh and UNC Rex Healthcare, where they will work with hospital staff as well as Wake Tech faculty. Students will have contact with ill and injured patients. They will complete a limited number of night and weekend rotations and a limited rotation in an office setting.
The Radiography program is offered at Wake Tech's Perry Health Sciences Campus, adjacent to WakeMed in Raleigh. The program begins each fall and spring semester; classes are held during daytime hours only.
Perry Health Sciences Admissions
919-747-0402


[email protected]
Program Contact: Perry Health Sciences Admissions
Office Phone: 919-747-0402