Medical Office Administration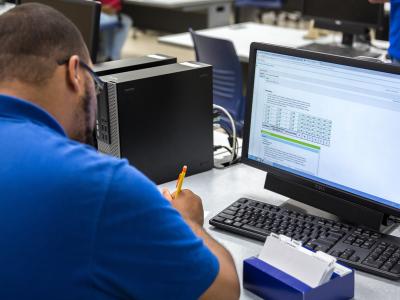 Degrees & Pathways
AAS - Associate in Applied Science
Diploma
Certificates
About The Program
The Medical Office Professional curriculum prepares individuals for employment as medical administrative office personnel (AAS degree). Students develop skills in medical office procedures and tasks, along with medical terminology, keyboarding, editing and formatting, office software applications, office computations, records management, medical insurance and billing, medical legal and ethical issues, electronic health records, oral and written communication, critical thinking, team building, and problem solving. The degree is available online.
Certification opportunities
Students are eligible to take industry-recognized certification exams.
CCS – Certified Coding Specialist
CEHRS – Electronic Health Record Specialist
CMAA – Certified Medical Administrative Assistant
CPB – Certified Professional Billing
CPBS – Billing and Coding Specialist
CPC – Certified Professional Coder
MOS – Microsoft Office
Quickbooks
Job opportunities
Medical office job opportunities include a variety of positions in medical offices, hospitals, insurance companies, laboratories, medical supply companies, research facilities and other health care organizations.
Resources