Wake Tech Foundation
College Celebration Showcases Community Impact
Wake Tech Hosts Fourth Annual "IGNITE" Event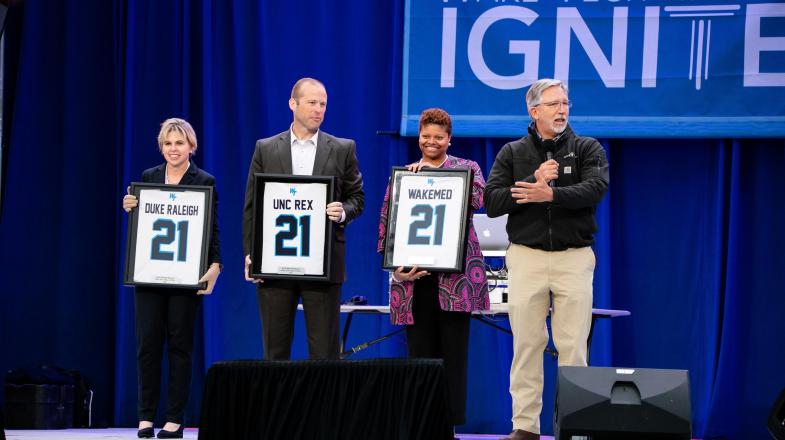 RALEIGH, N.C. (May 12, 2021) – More than 450 local business leaders and influencers gathered Wednesday evening at Wake Tech's Southern Wake Campus for "Wake Tech IGNITE" – an annual event to showcase the college and its mission of transforming lives. Video highlights.
Hosted by the Wake Tech Foundation, the fourth annual IGNITE event had an "All-Star" theme and was held outdoors drive-in theater style in a parking lot to maintain safety protocols. Attendees enjoyed a tailgate barbecue meal at tables set up beside their vehicles as they listened to personal success stories of individuals and organizations driven to impact the community and Wake Tech.
The evening was highlighted by the announcement of a $1 million endowed gift made by Mike Conlon, president and CEO of Affordable Communities Group, LLC in Cary. The Conlon Venture Fund will support entrepreneurship and small business programs at Wake Tech, Shaw University and St. Augustine's University.
Conlon, who is also a Wake Tech Foundation board member, was one of six individuals and organizations to receive Impact All-Star Awards during the event for their support and commitment to the college.
Other recipients are:
Duke Raleigh Hospital, UNC Rex Hospital, and WakeMed Hospital, were honored for their support of Wake Tech healthcare programs. Collectively, the three hospitals have given $15 million in donations to Wake Tech health sciences programs since 2000, collaborated with leadership and faculty on program development, and provided access to facilities and technology to help train our community's future health care professionals. Accepting the award on behalf of each hospital were Leigh Bleeker, interim president for Duke Raleigh; Ernie Bovio, president, UNC Healthcare; and Donald Gintzig, president and CEO, WakeMed Health and Hospitals.
Blue Cross Blue Shield of North Carolina was honored for the organization's $350,000 financial commitment to the college's Fostering Bright Futures program, which helps foster youth make the transition from foster care to independent young adulthood. This gift will help double the size of the program, increase staff to provide full-time support at a second campus and enhance the program offerings. Fran Gray, senior vice president for government markets for BCBSNC, accepted.
Rachel Selisker, Wake Tech graduate and former Foundation board member, was recognized for the establishment of the Scott Scholars Scholarship program at Wake Tech in 2012. Named in honor of Wake Tech's third president, Dr. Stephen C. Scott, the scholarship is Wake Tech's most prestigious honor. The program's goal is to raise $1 million to support four Scott Scholars each academic year.
All were presented framed commemorative Wake Tech jerseys in appreciation for their support of the college.
The program also included the return of several Wake Tech alums who shared their continued success to illustrate the impact of each program connected to the Impact All-Star awards – healthcare, Small Business Center and Entrepreneurship, Fostering Bright Futures and Scott Scholars.
Angela Coleman, a 2017 Wake Tech nursing grad, went on to receive her BSN from Chamberlain School of Nursing in Chicago, Illinois. She is now the Occupational Health Nurse and Joint Commission Coordinator at Lincoln Community Health and her ultimate goal is to become a nurse practitioner. "To all the Wake Tech team and IGNITE Family, thank you," Coleman said. "Thank you for caring about the mission of my community's college. Thank you for supporting the mission that is training up people like me who with the knowledge I gained at Wake Tech, can make a big difference in our community. Your support has impact."
Terence Morrison received counseling in the Small Business Center in 2018 for his business Acropolis Engineers. His company has grown from 3 to 16 employees, including three Wake Tech graduates, and is in the process of opening two new satellite offices in Greensboro and Spartanburg, S.C. "When COVID hit we sent our staff home, but I knew that wasn't going to work long-term so I got to work planning and imagining how we could continue to grow in spite of the pandemic," Morrison said. By keeping in touch with our clients and strengthening my management team, I was able to position Acropolis Engineers in a new way, by refocusing our business around the relationship with our clients versus just selling services. With those changes, the flood gates opened.
Christy Setola, a Fostering Bright Futures student who talked about the impact of the program at IGNITE four years ago, has moved from working at a chiropractor's office to a new job as an admin support specialist at a firm called MM Fowler. Each job has been better for her, and she's still focused on her original goal of becoming a medical interpreter. "Putting yourself through college is hard," Setola said. "Especially when you don't have the support systems of those around you. It's lonely and you get tired. I will never forget the feeling of knowing that I had the Fostering Bright Futures family behind me as a support system -- academically and emotionally. For the first time, I had a close knit group that kept me motivated and focused on my goals. It was a big deal. Big enough to change my life. I wasn't one of the negative foster statistics anymore, I was a success. I am a success."
Candis Parker, the first Scott Scholar, shared how that opportunity led to an internship with Balfour Beatty. She was ultimately offered a full-time position with the company after she earned her construction management degree from Wake Tech. "The Scott Scholars program connected me to my community," Parker said. "It gave me a focus, a reason to stay, a reason to care and a reason to give back as much as I can. This program is pretty darn major! Now, as a Wake Tech Foundation board member, I have not only contributed to the scholarship fund, but I now help oversee the Scott Scholars - talk about full circle! Being able to give back so that someone's life can be changed, just like mine was. A chance that they deserve, to move mountains and change their lives."
Wake Tech IGNITE is focused on strengthening community relationships and developing new partnerships. The Wake Tech Foundation cultivates and manages a variety of resources critical to the college's success: corporate investments, private grants, alumni and employee contributions, and financial and in-kind support from many other friends of the college. These resources fund diverse projects, from student scholarships to broader instructional and institutional needs.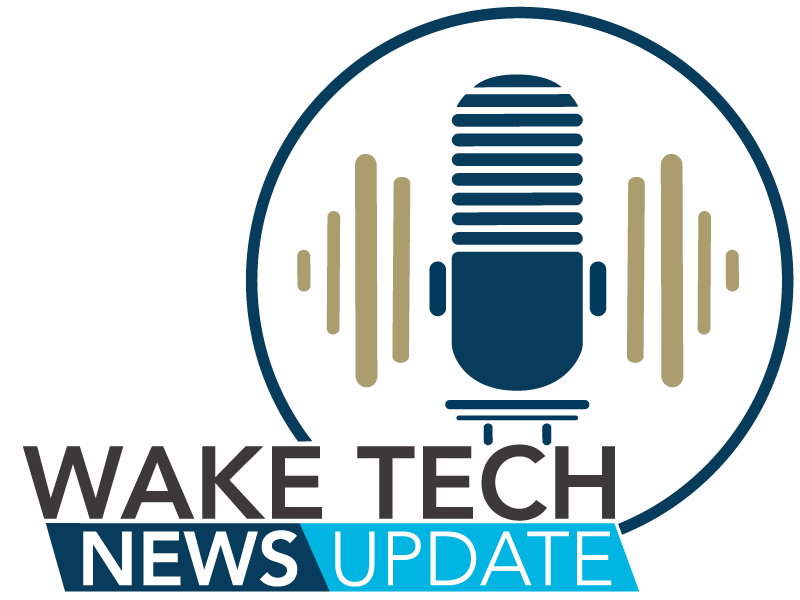 Latest News from Wake Tech