Around WakeTech
Spring Semester Begins Mostly Online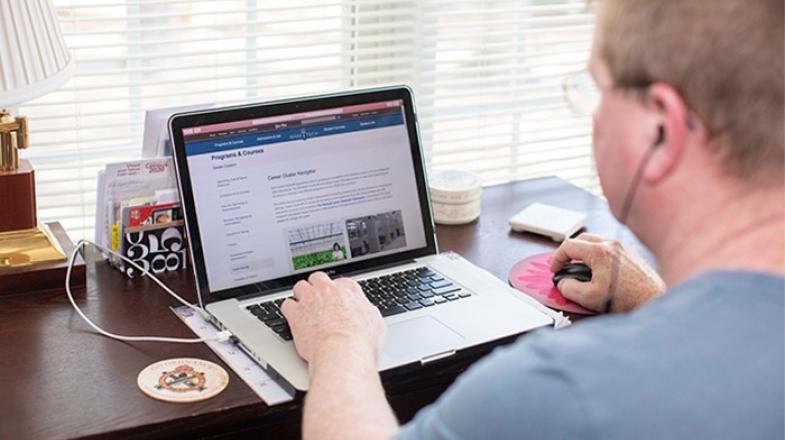 RALEIGH, N.C. (January 7, 2021) – The spring semester started today, with most degree and non-degree students taking their classes online.
Due to the holiday spike in coronavirus cases, the college decided to start all classes for the first two weeks of January in a fully online format. Hybrid courses will transition to include some face-to-face instruction on or after January 19. There may be a few exceptions, so students are urged to contact their instructors for clarification.
Libraries and tutoring centers (ILC's) are open but will operate fully online until January 19. After that date, appointments will be accepted for in-person assistance. All other enrollment services, including admissions, financial aid and advising will continue to operate as usual. Appointments for assistance can be made in the Virtual Support Center. Students facing technology challenges should contact the office of Student Advocacy & Support at 919-532-5964 or email [email protected].
"The recent surge in COVID cases in our community has led us to change our approach to the beginning of spring semester," said Wake Tech president Dr. Scott Ralls. "Our two priorities continue to be focused on keeping our college community as safe as possible, while giving students the opportunity to achieve their academic goals."
When on-campus classes resume, Wake Tech's Safety Guidelines and Protocols will be strictly enforced. The protocols include mandatory masks and social distancing in classrooms, hallways and other public places on campus. Classrooms will continue to operate at 1/3 to 1/2 capacity and will be cleaned at regular intervals throughout the day. Wake Tech leaders will continue to monitor developments with the coronavirus pandemic and will make adjustments to the college's spring plan as warranted.
Meanwhile, the college is excited to welcome its first medical sonography students this semester. The new Associate in Applied Science (AAS) degree program at the Perry Health Sciences Campus in Raleigh, will prepare students for high-demand careers as medical sonographers, health care professionals who use high-frequency sound waves to produce images of internal organs and tissues.
When hybrid students return to in-person instruction, those who attend classes on the Southern Wake Campus will notice a new traffic pattern near the north side of campus. NCDOT has temporarily closed off a portion of Old McCullers Road near the Automotive and Heavy Equipment Technology Building to prepare for the construction of NC 540 (the Triangle Expressway).
Those who attend classes on the Scott Northern Wake Campus will notice that Parking Lot F is closed due to the construction of the Hendrick Center for Automotive Excellence. The 100,000 square foot facility is due to open later this year, as is a new biotechnology building on the RTP Campus in Morrisville. Construction on this building continues to affect parking at the RTP Campus as well. Please follow posted detours and campus signage.