Events
Students Receive Thanksgiving Meals
College Partners with Food Lion to Distribute Food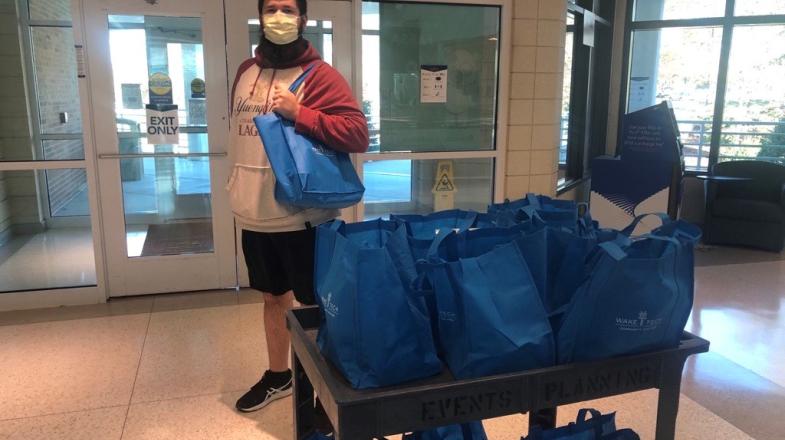 RALEIGH, N.C. (November 18, 2020) - Wake Tech and Food Lion hosted a food giveaway so hundreds of students will have Thanksgiving dinner, complete with turkey and all the fixings. Nearly 350 students received a bag of Food Lion groceries to prepare side dishes and a gift check for a Butterball turkey.
Hunger is a serious problem among college students. According to a 2019 survey, 42 percent of 2-year college students reported experiencing food insecurity, and 50 percent reported housing insecurity.
"Wake Tech is committed to eliminating barriers to success," said Melody Henderson, Director of Student Support Programs. "Providing assistance with basic needs is one way to do that."
Wake Tech's food pantry program, called "The Nest," includes pantries on the Scott Northern Wake, Southern Wake, Perry Health Sciences, and RTP campuses. There is also a food pantry at the Beltline Education Center. Since The Nest first opened in 2014, it has received 33, 365 pounds of non-perishable food donations, and more than 2,806 students have received vital food assistance.
Wake Tech has a strong partnership with Food Lion in the effort to help students in need. Earlier this year, when the college purchased gift cards to hand out to students, Food Lion provided a discount so Wake Tech could feed students in need. The grocery chain also sponsors annual produce pop-ups, and held one before the pandemic hit. In 2019, Food Lion associates and community food bank partners renovated Wake Tech's food pantries – and stocked them with nutritious food. Food Lion also presented Wake Tech with a generous $125,000 gift to expand college efforts to help students and their families combat food insecurity.