Athletics
College to Compete in National Esports Tournament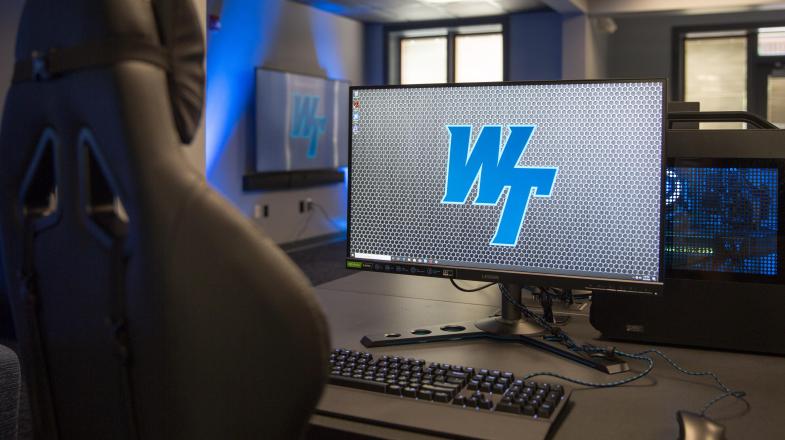 RALEIGH, N.C. (November 9, 2020) - The first Collegiate Esports National Championship (CENC) will take place in Raleigh next spring and Wake Tech will compete. The tournament, hosted by Collegiate Sports Management Group (CSMG), is set for April 29 through May 2, 2021 at the Raleigh Convention Center. Wake Tech will receive an automatic bid to the first round.
"This is exciting news for Wake Tech and the Raleigh area," said Wake Tech Athletic Director Brian Anweiler. "Intercollegiate esports is a rapidly growing phenomenon and I know Wake Tech students are going to be thrilled to be a part of the action."
"Wake Tech's commitment to developing local talent for global challenges has resulted in yet another 'first' for Greater Raleigh," stated Loren Gold, Executive Vice President of Visit Raleigh and Co-Chair of the newly formed Greater Raleigh Esports Local Organizing Committee (GRELOC). "In addition to announcing the hosting of the nation's first new esports championship in 2021, we are proud of Wake Tech's leaders for recognizing esports as an official athletic program. Through commitments from the leaders of our great educational institutions, it's exciting to witness our plan coming to fruition to become an East Coast hub for esports events and programs."
Wake Tech is assembling a team to compete in the CENC tournament and is in the process of hiring a coach and fielding teams for Wake Tech's new esports program, which officially launches in the fall of 2021.
So far, more than 50 students have expressed interest in competing for the Wake Tech Eagles. Students must be enrolled full time, maintain a minimum 2.0 GPA, and meet certain progress toward their degree to be eligible to participate.
The teams will compete in a new state-of-the-art esports arena on the Southern Wake Campus. The 14-seat arena, powered by Lenovo's top-of-the-line desktop computers, will serve as a "home field" for the esports program.
Wake Tech will become the first college or university in the Triangle and one of only a handful of institutions across the state to include esports as part of its intercollegiate athletics program. The college is also among very few in the nation where gaming is a recognized intercollegiate sport and game development is an academic degree.
"We're excited to be a part of the Collegiate Esports National Championship," said Wake Tech President Dr. Scott Ralls. "We know that gaming – like athletic competition – can be a powerful tool for enhancing learning and building all kinds of skill sets, and esports brings the two together. Wake Tech has been leading the way in game development for some time, and this championship is further evidence of its importance."
Games being considered for Wake Tech's esports program are Overwatch, League of Legends, and Rocket League. These are online, multi-player games in which teams of student-athletes will compete to defeat opponents from two and four-year colleges and universities. Each game will have a separate team.
Wake Tech's esports program will be affiliated with the National Junior College Athletic Association Esports (NJCAAE), which provides two-year colleges with governance, competition, and official national championships.