Partnerships
Wake Tech and UNC Charlotte Partner on Data Science Degree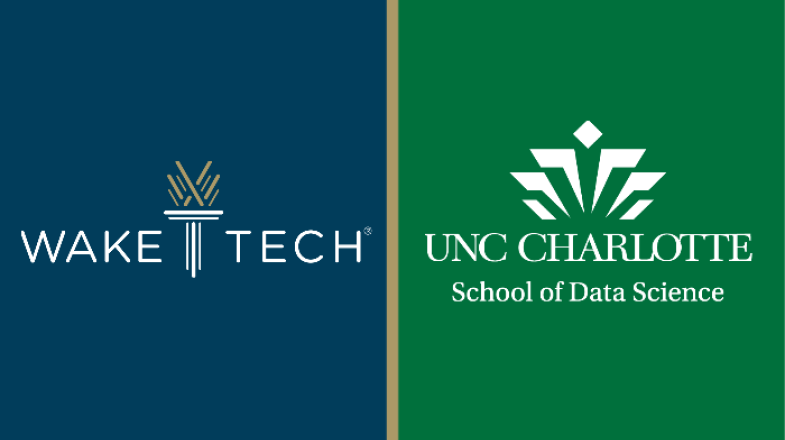 Raleigh, NC (September 1, 2020) - An academic partnership between Wake Tech and The University of North Carolina at Charlotte's School of Data Science (SDS) will grant students a new opportunity to pursue a bachelor's degree in Data Science.
The initiative allows graduates of Wake Tech's Associate in Applied Science degrees in Computer Programming, Data Science and Programming, and Business Analytics to earn a Bachelor of Science in Data Science from UNC Charlotte. Through the official articulation agreement, students may transfer up to 64 semester credit hours towards a bachelor's degree in Data Science – the only such degree offered in North Carolina.
"We're excited that many of the graduates of our IT programs can transfer directly into UNC Charlotte and the state's first Bachelor of Science degree in Data Science," says Dr. Keith Babuszczak, Wake Tech IT Programs Provost and RTP Campus Chief Campus Officer. "Students can start their studies here in Wake County, continue their education at UNC Charlotte, and be prepared for a variety of high-demand jobs in big data."
The new partnership also provides a collaborative opportunity for the faculty and academic leadership teams of both institutions to discuss strategies for ongoing improvement, course alignment, student development and program growth.
"This academic partnership with Wake Tech will be instrumental in the expansion of our undergraduate program," said Doug Hague, executive director of UNC Charlotte's School of Data Science. "As the only data science undergraduate degree in North Carolina, developing a comprehensive and inclusive curriculum will be a team effort. We're excited to work alongside the Wake Tech team to bridge the gap for data science students."
The School of Data Science's undergraduate program is designed to equip students of all backgrounds to become innovators in the field of data science. As a program rooted in a four-college partnership, graduates of the major will have the ability to apply theories and technologies to problems in domains across the humanities, social sciences, and sciences.
Wake Tech is North Carolina's largest community college, serving more than 74,000 adults each year.
To learn more about transfer opportunities for Wake Tech graduates, visit transfer.waketech.edu.
###