Around WakeTech
Record Number of Dental Assisting Students Graduate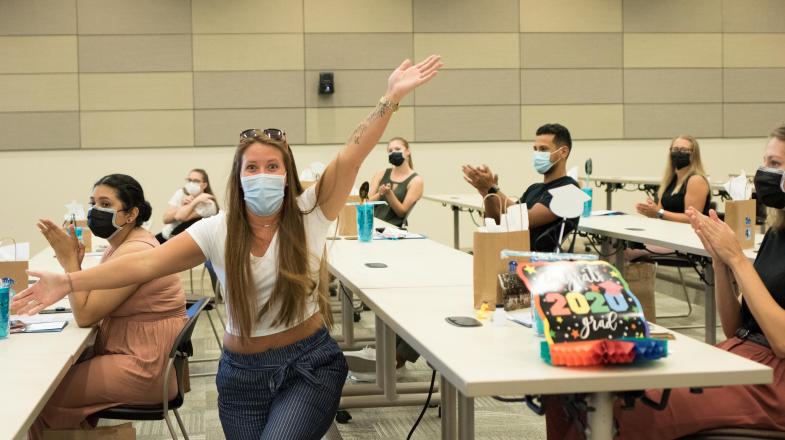 RALEIGH, N.C. (July 31, 2020) - Wake Tech hosted a special graduation celebration today at the Perry Health Sciences Campus for students who have completed the dental assisting program. Twenty-nine students gathered for an awards ceremony, the largest graduating class in the program's history, including three men, the most ever. The event replaced a luncheon that was canceled because of the pandemic. Instead, each student received a boxed lunch and a cupcake to take home.
Faculty members are extremely proud of these graduates who finished their classes despite the challenges of COVID-19. "These students are troopers," said Trudy Clark, dental assisting department head. "They had to convert to an online lecture format and simulated clinic hours to complete spring semester courses. When they returned to clinical rotations in June they were ready. The students have extensive infection control training and knowledge on how to utilize personal protective equipment correctly."
Dental assistants are in high demand in the Triangle area. The program is contacted daily by dental offices interested in hiring graduates. Almost half of these graduates have already found jobs.
The students had to complete 192 clinic hours this summer in order to meet graduation requirements. Wake Tech's dental assisting diploma program prepares students to assist dentists in the delivery of dental treatment and to function as integral members of the dental team, performing chairside and related office and laboratory procedures. A combination of lecture, laboratory, and clinical experiences provide students with knowledge in infection/hazard control, radiography, dental materials, preventive dentistry, and clinical procedures.
Nearly all of the graduates have completed the Dental Assisting National Board examination to become certified dental assistants. All of the students received financial support through the Wake Tech Foundation's Rally Fund or a Finish Line grant to pay the exam registration fee. Seven students received scholarships from Delta Dental and two students received scholarships through the North Carolina Dental Assistants Association.
The graduation celebration was sponsored by the Raleigh-Wake County Dental Society. The group sponsors the event every year.