Events
College Donates Personal Protective Equipment to Local Hospitals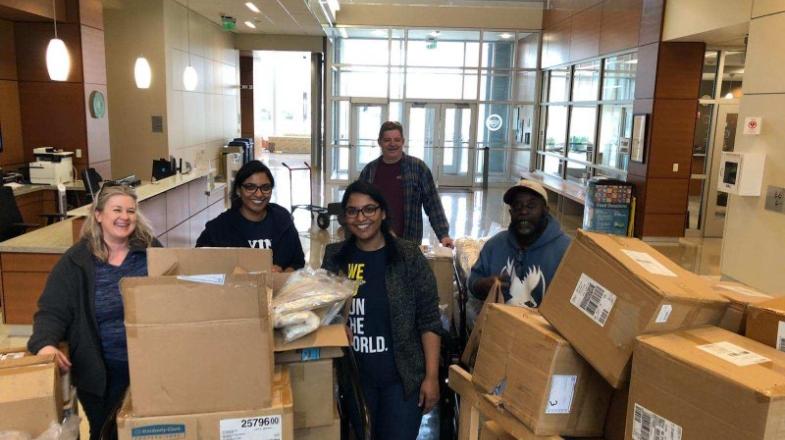 RALEIGH, NC (March 26, 2020) – Wake Tech, a leader in health sciences training, gathered much-needed personal protective equipment (PPE) from its programs and donated it to local hospitals as COVID-19 cases rise in North Carolina. The supplies include 74,000 gloves, 3,000 masks, and hundreds of bottles of sanitizer. The equipment comes from several Wake Tech programs, including nursing, dental hygiene, emergency medical science, as well as criminal justice, skilled trades, fine arts, and the BioNetwork Capstone Center.
Wake Tech staff sorted and organized the personal protective equipment at the Perry Health Sciences Campus in Raleigh. The equipment as well as a supply of disinfectant, soap, wipes, and sanitizer was donated to Wake Med Health and Hospitals, Duke University Hospital, UNC Rex Healthcare, and Transitions Life Care.
The donated personal protective equipment includes:
• Nitrile gloves
• Lab goggles
• Lab coats & gowns
• Applicators
• Dust masks
• N95 masks
• Ethanol
• Visors
Hospital systems in North Carolina have asked the public for the much-needed personal protective equipment and supplies to help protect workers and patients during the coronavirus pandemic. Wake Tech has already donated some supplies to Wake County EMS, Wake County Human Services, and Glenaire Retirement Community.
Wake Tech's Perry Health Sciences Campus offers credit and non-credit programs preparing students for careers in nursing, dental hygiene, emergency medical science, and other high-demand healthcare professions. Wake Tech partners with Wake Med and other local healthcare institutions to provide students with extensive opportunities for hands-on clinical training and co-op work experiences. It is also home to the Wake Early College of Health and Sciences.
All Wake Tech campuses remain closed except for limited buildings on the Northern Wake, Southern Wake, and Perry Health Sciences campuses. Wake Tech courses will resume in an online format on Monday, March 30, and will remain online for the rest of the semester. Limited in-person instruction will take place at the Perry Health Sciences Campus for nursing and radiography classes, and other training specifically requested by public safety and public health agencies. More information is on Wake Tech's coronavirus response page at waketech.edu/covid19.