Events
Celebration Showcases Mission to Transform Lives Through Education
Wake Tech Hosts Third Annual "Ignite" Event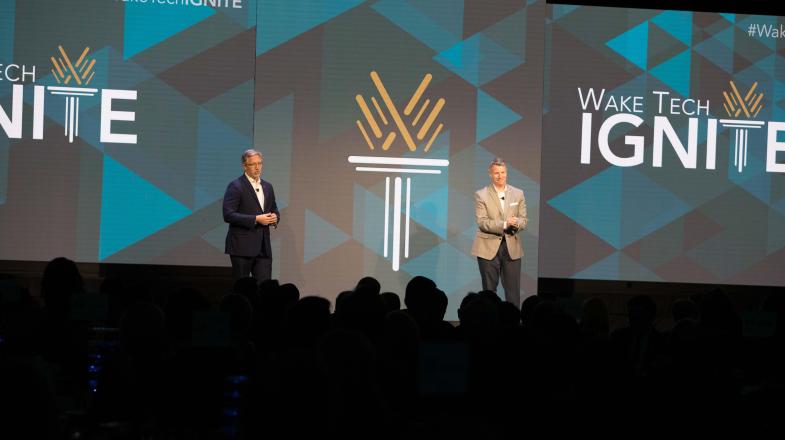 RALEIGH, N.C. (February 26, 2020) – More than 400 local leaders and influencers gathered at the downtown Raleigh Convention Center for "Wake Tech Ignite" – an event hosted by the Wake Tech Foundation to showcase the college and its mission of transforming lives. Video highlights.
The theme of the event was "Our Community's College" – highlighting how Wake Tech provides education, training, and resources to help all members of the community achieve personal and professional success, often with the help of collaborative partnerships. The event featured students, local and state leaders, and community partners:
Cathy Moore, Superintendent of Wake County Public Schools, discussed partnerships forged between Wake Tech and Wake County Public Schools to make programs like Career and College Promise and Wake Early College available to students who want to earn college credits while still in high school. Early College students can earn a high school diploma and an associate degree – or up to two years of transferable college credits – within four to five years, tuition-free. Last year, 2,900 Wake County students took advantage of these programs – and Moore says that "70 percent of those students are now pursuing university transfer credits." She says Wake Tech has helped the school system build a "growth and opportunity mindset in high school," along with the idea that "no matter what you're doing, you have lots of options."
Michael Denning, a Wake Tech graduate from Garner, wants to become a pediatric neurosurgeon. When his parents told him they had limited funds for his education, he turned to the Wake Early College of Health and Sciences. Denning two associate degrees while in high school and transferred to East Carolina University, where he graduated with a bachelor's degree in science and public health and a master's in business administration. In May, the 22-year-old will graduate with a second master's in public health from Columbia University in New York – and start medical school at ECU in the fall. "Wake Early College opened up a lot of doors for me," Denning says. "The program allowed me to nurture my passions and interests into a real career path."
Peter Hans, president of the North Carolina Community College System, described the community college of the 21st century as a place where excellent faculty teach extraordinary students with cutting-edge equipment, hands-on training, affordable prices, and industry partnerships that put students a step ahead – the kind of education designed to get students hired. "Wake Tech is a shining example of this," Hans says, "one of the very best community colleges in the nation. It is a vital player at the table – for both global companies and small businesses just down the street."
Peyton Holland, executive director of the National Technical Honor Society, says community colleges are where education meets reality. He says the job market has evolved, and a four-year degree without a skill often leaves graduates underemployed and saddled with debt. In North Carolina, there is a need for technical and skilled trades jobs, including heavy equipment operators and welders. Holland says this situation has resulted in a gap between the education provided and the workplace skills needed. "Employers have made it clear they want people ready to go with real life/hands-on training – but where do they find them? In Wake County, it's Wake Tech. The college's ability to shift and innovate quickly to help meet employer needs is proving to be the secret weapon for businesses and local economic development."
Sarah McLain's journey to Wake Tech started when she was accepted into a biology program at NC State. After struggling with calculus, she decided to explore art at Meredith College – and there, during a sculpture class, she discovered welding. She graduated with a bachelor's degree in art and worked in retail for a year before enrolling in the welding program at Wake Tech. She had trouble finding welding gear for women and became determined to succeed in the male-dominated field. "With every class, my love for welding grew," McLain says. "My professors made it clear that we were all on the same playing field. Gender doesn't matter when your welds are being tested for structural flaws." McLain found employment as a robot technician at Caterpillar – before she graduated. "Because of the education and guidance I received at Wake Tech, I found a career doing what I love."
Matt Calabria, Wake County Commissioner, announced a new partnership between Wake County and Wake Tech to expand apprenticeship and scholarship opportunities for students. The program, WakeWorks, will partner with area businesses to offer paid apprenticeships to students in skilled trades and technician programs where demand is high. With the county funding, Wake Tech will cover tuition, fees, books, uniforms, and tools for students accepted into the apprenticeship or pre-apprenticeship programs. "This is exactly what we need to get us to the next level here in Wake County," Calabria says, "and it's a win-win for the people we serve. Thank you to the entire Wake Tech family for working with us to make this a reality!"
Maggie Kane, founder of A Place at the Table, Raleigh's first "pay-what-you-can" restaurant, announced a new partnership with Wake Tech. The idea formed, she says, after a conversation over breakfast with Wake Tech President Dr. Scott Ralls. "We shared our visions of serving our community," Kane says. The partnership will offer training to underserved populations, to allow them to jump start careers. Wake Tech will offer 96-hour credit courses at A Place at the Table on Mondays and weekday afternoons when the restaurant is closed. Students can work toward one or more certificates that will provide immediate opportunities for good jobs in the hospitality industry. "We can offer a convenient, central, downtown location," Kane says, "and Wake Tech can provide the instruction and job connections. It's a partnership that focuses on a hand up, not a hand out."
Rebekah Marshall turned to Wake Tech after her husband died unexpectedly and she became sole provider for their four children. She utilized Wake Tech's online courses and multiple locations to complete the Certified Nursing Assistant (CNA) program in six months– and four years later, earned her nursing degree. Marshall says support from her Wake Tech professors helped her succeed: They offered one-on-one instruction and coached students on searching for jobs and interview etiquette. "They weren't just invested in the curriculum they taught us," Marshall says; "they were invested in our futures." Marshall also took advantage of Wake Tech's food pantry, The Nest, from time to time to help make ends meet. She says it was a life saver. "We all have hard times, and it's the people who rally around us that help us get through. When I needed my Wake Tech community the most, they were there for me."
Wake Tech President Dr. Scott Ralls is passionate about the "reach and rally" approach to helping students like Rebekah Marshall – and so many others – succeed. At the conclusion of the Ignite event, Dr. Ralls and Matt Smith, Vice President of Development and Strategic Partnerships, announced the creation of the Reach and Rally Fund. The fund will focus on helping students overcome barriers to education and provide scholarships for students who have almost completed degrees but have had to drop out because of financial hardship, food insecurity, the threat of homelessness, or other difficult circumstances. "We're going to go to where people are and rally around them," Ralls said. "We want them to achieve as much as they desire."
Wake Tech Ignite is focused on strengthening community relationships and developing new partnerships. The Wake Tech Foundation cultivates and manages a variety of resources critical to the college's success: corporate investments, private grants, alumni and employee contributions, and financial and in-kind support from many other friends of the college. These resources fund diverse projects, from student scholarships to broader instructional and institutional needs.