Earn college credit, tuition-free, while in high school. Wake Tech's Career & College Promise (CCP) program offers eligible high school students the opportunity to earn a credential for employment or credits toward a college degree. In many cases, students can also earn dual credit – meeting high school graduation requirements with college courses.
Announcements
2022 Summer/Fall enrollment is underway

Self-registration for the Summer term has concluded, but self-registration for Fall semester is still available.
Students can request new or additional courses via the CCP course request form.
Review the CCP self-registration notifications and tips resource prior to course registration.
Students registered out of pathway or not in compliance with CCP Guidelines may be a risk of having courses dropped from their schedule
Prospective students should visit New CCP Students for enrollment steps and important information.
Continuing students should visit Current CCP Students for re-enrollment steps and important information.
Upcoming deadlines and events
CCP application/EV form deadline (Summer only)
May 27
Getting started with CCP enrollment
Students who have been admitted/enrolled during a previous term.
Students who have not been admitted/enrolled during a previous term. (First-time applicants)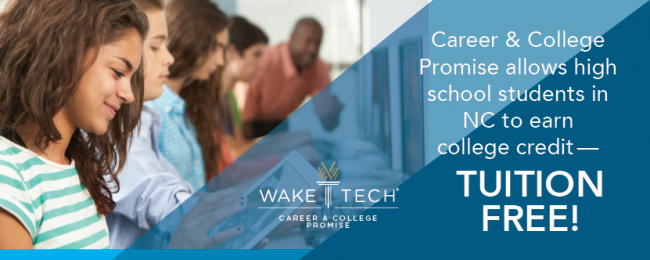 Why Choose Career & College Promise?
Opportunity to explore more than 40 academic programs while also being enrolled in high school, allowing students to receive both high school and college credit
Saves students and parents money on college tuition (CCP classes are tuition free) and lightens the course load for future college enrollment
Assists with admission into future college of choice – demonstrates college readiness and rigor
Introduces the "college experience" to students
Provides a jump-start to career plans, job training, skills and certifications
Wake Tech and the Career & College Promise program, individually and jointly, have displayed tremendous growth and success. 

Wake Tech fun facts
Wake Tech is the largest community college in North Carolina, serving more than 70,000 students.
Wake Tech is ranked as the #1 Online Community College in the nation.
Wake Tech's average class size is 21:1.
100% of Wake Tech programs are transferable for further study.
Career & College Promise at Wake Tech
Enrollment has increased more than 800% within the past 10 years.
Since 2014, nearly 30 additional pathways have been added.
The average GPA for the Fall 2021 Semester was 3.25.
Nearly 50% of participating seniors become regular Wake Tech students after graduating high school.