Events
High School Equivalency Graduates Celebrate Success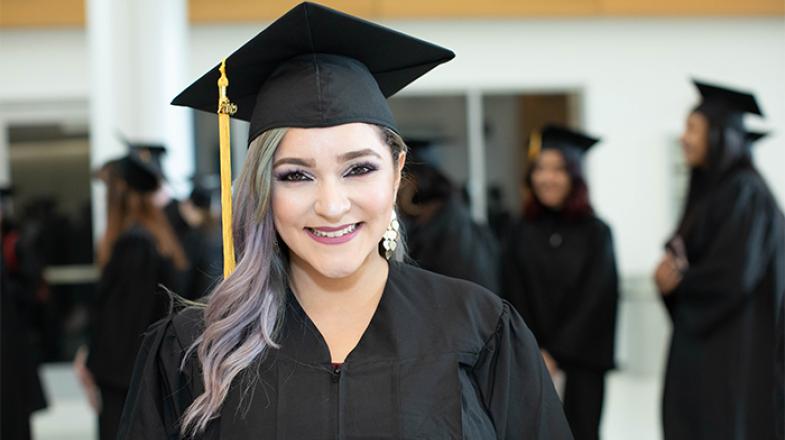 RALEIGH, N.C. (December 14, 2019) - Graduates of Wake Tech's high school equivalency programs celebrated today at the Scott Northern Wake Campus, earning their diplomas and turning their tassels in front of joyful friends and family. The ceremony honored 107 graduates of the High School Equivalency Preparation (HSEP) program, and 26 graduates of Adult High School (AHS). AHS is for students who need eight or fewer high school credits to graduate.
Martha Sanchez, a graduate of the high school equivalency program, had put her education on hold –
for 26 years – to raise three daughters. "I am the proud mom of three college students," she said. "When I saw my youngest daughter cross the stage at her high school graduation, I knew it was time for me to take my own advice and complete my education." Sanchez plans to continue at Wake Tech with the goal of becoming a social worker.
Wake Tech President Dr. Scott Ralls celebrated the graduates' achievement and encouraged them to keep striving for more. "Your accomplishment is especially impressive because of the many challenges you've overcome to be here today," he said. "The degree you've earned opens up a gateway of opportunity to your future. Keep going!"
Wake Tech has more HSEP and AHS graduates than any other community college in North Carolina. Today's graduates include 29 students in the federal HEP program for seasonal and migrant farmworkers, which is funded through a grant from the U.S. Department of Education.
Wake Tech's Career and College Readiness program is based at the college's Beltline Education Center, at 3200 Bush Street in Raleigh. Learn more at ccr.waketech.edu.