Partnerships
Wake Tech to Become HQ for National Entrepreneurship Organization
National Association for Community College Entrepreneurship Chooses College for Corporate Home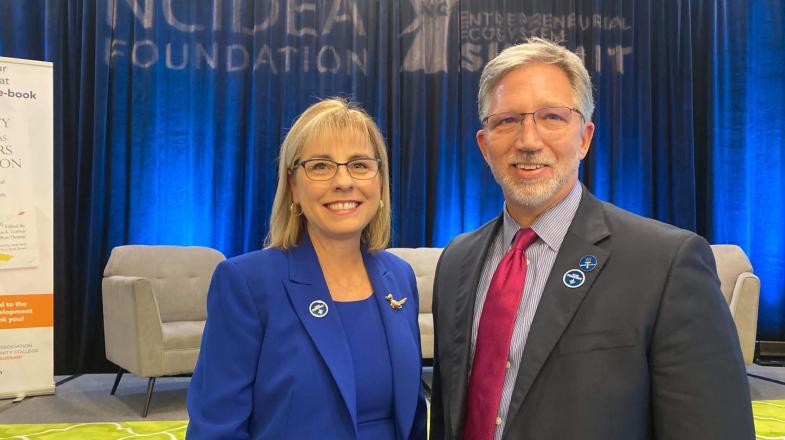 RALEIGH, N.C. (November 19, 2019) - Wake Tech's Western Wake Campus, in Cary, will become the new corporate headquarters for the National Association for Community College Entrepreneurship (NACCE). The organization, a national leader in promoting and supporting entrepreneurship through community colleges, began in 2002 at Springfield Technical Community College, in Springfield, Massachusetts.
The NACCE's new home at Western Wake will house its leadership team and new hires, and serve as a training location for national and regional summits. It will officially open in February 2020 during National Entrepreneurship Week.

"At Wake Tech, we believe in entrepreneurship – and in partnership," said Wake Tech President Dr. Scott Ralls, "so we're doubly excited to welcome NACCE to Wake County and our Western Wake Campus. We know our students and our community will benefit from the opportunities this new connection will bring."
The Western Wake Campus houses Wake Tech's Small Business Center as well as the college's numerous apprenticeship and entrepreneurship programs.
In 2018, Wake Tech won NACCE's Presidents for Entrepreneurship Pledge Award, which acknowledges outstanding leadership by a community college president in stimulating economic growth and job creation in local communities through entrepreneurship. Last month, Wake Tech's entrepreneurship team won a $10,000 prize in the Ratcliffe Foundation's Pitch for the Trades Competition, held at NACCE's Annual Conference. The competition supports entrepreneurs in skilled trades.
"NACCE is an incubator for innovation," said president and CEO Rebecca Corbin. "We look forward to serving our growing network of 330+ colleges and universities by collaborating with industry, foundation, and association partners throughout North Carolina." Corbin said they chose North Carolina and the Triangle for their new headquarters because of its "robust entrepreneurial ecosystems and the growing number of community college and Historically Black Colleges and Universities (HBCUs) in the state that are members of NACCE." The organization will retain a satellite office in Springfield, Massachusetts.
NACCE announced the decision during the NC IDEA Foundation's inaugural entrepreneurial ecosystem summit, "Redefining Economic Development through Entrepreneurship," held in Raleigh. The NC IDEA Foundation, a strategic partner of NACCE, hosted the summit in conjunction with the Governor's Entrepreneurial Council to catalyze entrepreneurship as an economic development strategy for the state. The NC IDEA Foundation is a private foundation dedicated to maximizing the economic potential of the people of North Carolina.