Events
Wake Tech President Gets a Closer Look at Biotech Training
Dr. Scott Ralls Tours BioNetwork Capstone Center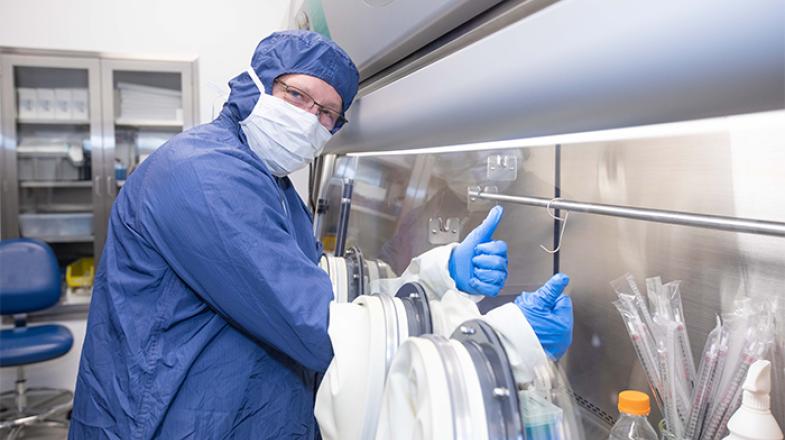 RALEIGH, N.C. (November 4, 2019) - State-of-the art workforce training in biomanufacturing was on display today when Wake Tech President Dr. Scott Ralls toured the BioNetwork Capstone Center, on NC State's Centennial Campus in Raleigh.
The Capstone Center, located in the Golden LEAF Biomanufacturing Training and Education Center (BTEC), is a training facility designed to mirror a commercial biomanufacturing plant, with fully-equipped, industrial-grade laboratories. The center features the region's most advanced aseptic suite for hands-on training in clean room processing techniques, including cell culture, purification, quality control and environmental testing.
"The training environment at the Capstone Center is unparalleled," said Dr. Ralls. "It allows workers to learn the tools, techniques and problem-solving skills they will actually encounter in the workplace. That's the kind of workforce training that industry needs – and that Wake Tech has built a reputation on delivering!"
Dr. Ralls was joined by Dr. Pamela Howze, Wake Tech Executive Director of Apprenticeship, Customized Training, and Work Based Learning for a tour of the aseptic suite. Both wore the required clean room suits, with attached hoods and boots, to keep the area sterile.
The BioNetwork Capstone Center is operated by a consortium of NC community colleges, led by Wake Tech. The center delivers courses, certificates and customized industry training in biomanufacturing, pharmaceuticals, food, beverages and natural products. It serves as a key resource in economic development by helping to produce and sustain a high-quality workforce for the bioscience industry. Employees from dozens of local companies, including Biogen, Pfizer, Novo Nordisk, BioMérieux, Grifols, Merck, Sanofi, Thermo Fisher, GSK and Cygnus Technologies, have trained at the Capstone Center.
Wake Tech also offers a two-year associate's degree in Biopharmaceutical Technology and the non-degree BioWork certificate program to begin a career as a process technician.