Campus Happenings
GoTriangle Provides Greater Access to RTP Campus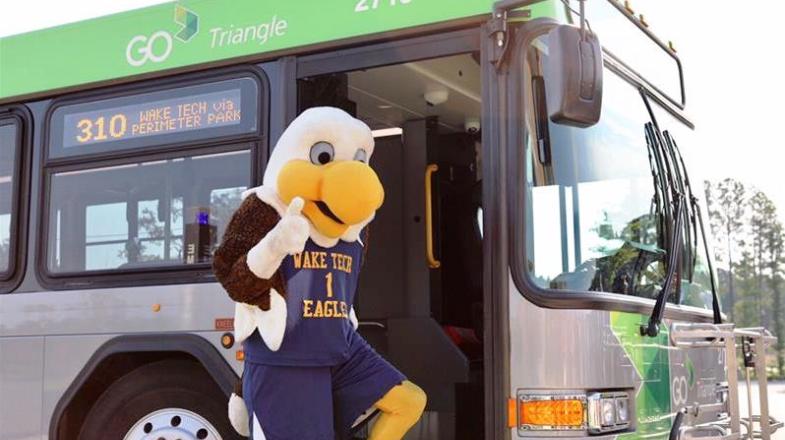 Raleigh, NC (August 1, 2019) - Wake Tech students will soon have a new option for getting to their classes on the RTP Campus: GoTriangle, our regional transit provider, is launching a new bus route on August 5.
Students, staff, and faculty took an inaugural ride on the new Route 310 bus today. Wake Tech mascot Talon was on hand to celebrate! The bus will run every half hour from 6:30 a.m. to 8:30 p.m., Monday through Friday, from the Regional Transit Center to the Wake Tech RTP campus and other Perimeter Park destinations. GoTriangle has direct routes that give people from all over the Triangle access to the Wake Tech RTP Campus. The ride is about 10 minutes from the Regional Transit Center to the RTP Campus.
"This is great news," said Sandy Dietrich, Chief Academic Officer, "and it's about much more than convenience. Accessibility is a core component of the community college mission, and transportation can be a significant challenge for many of our students in their pursuit of higher education. This new bus service will change the equation for a lot of people."
More than 2,000 students in degree and non-degree programs currently attend Wake Tech's RTP Campus, which opened last fall with a single building. Construction on a second building will start later this year, and the 94-acre campus is designed to eventually serve up to 7,000 students. Enrollment across all Wake Tech locations is more than 74,000.
The RTP Campus specializes in IT and business programs and offers University Transfer. It also serves Wake County high school students with CCP (dual enrollment) programs – so the new bus service may provide greater access and opportunity for local high schoolers as well. Students age 18 and under ride free on all Triangle transit with a Youth GoPass.
"The creation of Route 310 shows how public transportation is so much more than just getting people from Point A to Point B," said GoTriangle President and CEO Jeff Mann. "A healthy transit network opens up life-changing opportunities that some people could never take advantage of without access to transit."
GoTriangle will also begin a new North Raleigh Express (NRX) route along I-540 from Triangle Town Center to a park-and-ride lot off Falls of Neuse and Strickland roads to the Regional Transit Center. It will serve students traveling between the Scott Northern Wake Campus on Louisburg Road and the RTP Campus.
Wake Tech students, faculty, and staff will now enjoy transit services to six locations, with GoTriangle serving the RTP Campus and the city's GoRaleigh buses serving Wake Tech's Northern Wake, Southern Wake, Perry Health Sciences, and Public Safety Education Campuses, as well as the Beltline Education Center.
Route 310 and North Raleigh Express rides will be free for the month of August. Wake Tech's fall semester starts August 15.
Explore Wake Tech transportation options at greentrek.waketech.edu.