Academics
Project COMPASS Team Wins Blackboard Catalyst Award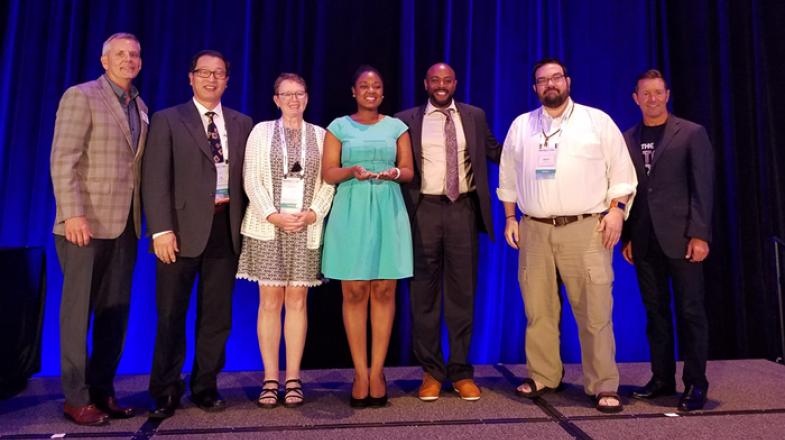 Raleigh, N.C. (July 16, 2019) - Wake Tech's Project COMPASS team has been named the winner of the Blackboard Catalyst Award for Leading Change. The award honors institutions that have developed practices and/or technologies that have had a measurable effect on learning outcomes, student performance, or academic progression.
Founded in 2005, the annual Catalyst Awards recognize and honor innovation and excellence in the Blackboard global community of practice, where millions of educators and learners work every day to redefine what is possible when leveraging technology. Winners are selected by a cross-functional team of Blackboard experts.
"We're thrilled to honor this year's Blackboard Catalyst Award winners for their commitment to improving the educational experience for all learners through EdTech and sharing these insights with the broader community," said Lee Blakemore, Chief Client Officer and President, Global Client Operations & Success at Blackboard. "Clients like these inspire us to accelerate innovation driving student success and we're proud to be a part of their story."
In response to receiving this recognition, Bryan Ryan, Senior Vice President for Effectiveness and Innovation said "Project COMPASS is about Wake Tech's commitment to student success. This recognition validates our work that focuses on leveraging technology to foster supportive and engaging learning communities online. It is truly gratifying for the members of our team and for the leadership of our community college to be honored with the Catalyst Award."
Project COMPASS is funded through the US Department of Education's First in the World grant program. The project was designed to improve the retention and success rates of students in online courses. Through Project COMPASS, Wake Technical Community College has seen positive impacts on the withdrawal and the success rates, not only for students of color, but students overall as well.
Wake Tech's Project Compass Team includes Laila Shahid-El, Bryan Ryan, Kai Wang, Pooneh Lari, Carlos McCormick, Chris Roddenberry, Thomas Rankin, Matthew Henry, Shelley Evans, Cynthia Bowers, Belinda Profitko, Sarah Rothman, Amy MacDonald, Carla McMullen, and faculty in BUS 110, PSY 150 and CIS 110 online classes.
Wake Tech's team will also be honored alongside other Blackboard Catalyst Award winners during BbWorld 2019, Blackboard's annual user conference to be held July 23-25 in Austin, TX.
Blackboard is the leading provider of learner success-focused technology solutions and services. Its product portfolio is unmatched in the marketplace, spanning teaching and learning,
analytics, community engagement, campus transactions, and security solutions as well as student services.
For more information on the Blackboard Catalyst Awards, please visit: https://community.blackboard.com/groups/catalystawards.
About Wake Technical Community College: Wake Tech is North Carolina's largest community college, serving more than 74,000 adults annually, with six campuses, three training centers, multiple community sites, and a comprehensive array of online learning options. Wake Tech is accredited and offers more than 240 associate's degrees, diplomas, and certificates that prepare students for university transfer or immediate employment. The college offers non-credit continuing education programs that include customized workforce training, small business support, public safety officer training, basic skills courses such as English as a Second Language and high school equivalency preparation, and other courses for personal enrichment. Wake Tech also serves high school students at the Wake Early College of Health and Sciences, Vernon Malone College and Career Academy, and North Wake College and Career Academy, in partnership with Wake County Public Schools.
For more information, visit www.waketech.edu, www.twitter.com/waketechcc, and www.facebook.com/waketechcc.
About Blackboard
Our mission is to partner with the global education community to enable learner and institutional success, leveraging innovative technologies and services. With an unmatched understanding of the world of the learner, the most comprehensive student-success solutions, and the greatest capacity for innovation, Blackboard is education's partner in change.