Around WakeTech
Wake Tech's RTP Campus Dedicates Lobby Honoring Lenovo Partnership
Space Named to Recognize Lenovo Support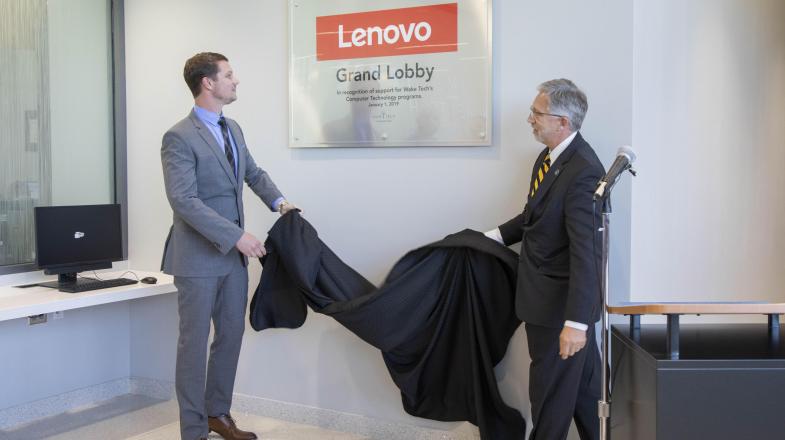 RALEIGH, N.C. (May 1, 2019) - The lobby of the first building at Wake Tech's RTP Campus will now be known as the Lenovo Grand Lobby. The space was dedicated today in recognition of Lenovo's support for higher education and computer technology programs at Wake Tech. Lenovo has donated $157,000 to support student scholarships, equipment, and technology at the RTP Campus.
"We're extremely grateful for this partnership, which is not only valuable, but vital – for our students and for the future of our community," says Wake Tech President Dr. Scott Ralls. "Lenovo has consistently demonstrated its commitment to preparing students for the jobs of the 21st century and placing them on the path to upward economic mobility."
As part of its commitment, Lenovo provides laptops to students in Wake Tech's Fostering Bright Futures program for students who have aged out of the foster care system. In addition, Lenovo partners with Wake Tech to offer internships in IT and business programs. Currently, 20 students are taking advantage of paid work-based learning opportunities at Lenovo, and many have been hired full-time upon graduation.
"Lenovo is fortunate to have access to the local talent pool and we look forward to furthering our collaboration with Wake Tech to develop skill sets for the future," said Kirk Skaugen, Executive Vice President, Lenovo, and President of Lenovo Data Center Group. "The internship program has proven to be very successful, in only 2 years span we have been able to convert over 25% of the interns into full-time employees and we expect this number to increase as the program grows."
Lenovo is a founding member of Wake Tech's RTP Campus Partners Campaign. Other top partners include Cisco, Fidelity Investments, and AT&T. Together, these companies have donated more than $500,000 in funds for scholarships, equipment, and technology at the RTP Campus.
"Technology firms know they have a major stake in training a skilled workforce," says Wake Tech Board Chair Tom Looney. "They also know there are thousands of IT jobs across the region and state right now. Lenovo's example is a great one to follow: Companies can collaborate with Wake Tech and be assured of getting the qualified workers they need to prosper."
Wake Tech's RTP Campus opened in the fall of 2018 with more than 1,100 students. Groundbreaking for a second building, which will focus on biotechnology training, is scheduled for later this year.