Academics
Engineering Student Teams Create Rube Goldberg Machines to Make the Simple Complex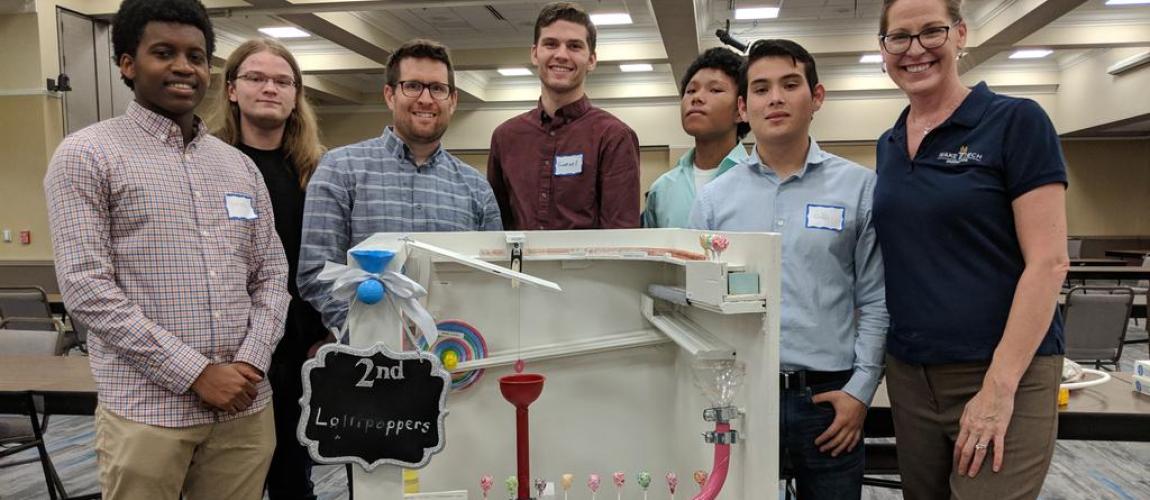 RALEIGH, N.C. (December 1, 2018) - Teams of engineering students from Wake Tech and Durham Tech faced off in a competition that literally got wheels turning. Their challenge: to compete against their peers as they designed and built a "Rube Goldberg" machine, a contraption that could perform a simple task in a not-so-simple way.
This year's Rube Goldberg Competition featured 83 teams with more than 400 students working to create a machine that could pop a balloon. The creations had to be developed with at least five distinct steps and had to rely on principles of physics – gravity, force, mechanics, magnetism, sound waves, light, or electricity. They also had to incorporate safety features, keep within certain dimensions, and meet budget requirements.
Some projects this year were completely recyclable, and one was made with 3D printing. Students documented the design process and wrote up reports as part of the assignment. Top winners received cash prizes. This year the top winner was a team from Durham Tech. Second and third places went to teams from Wake Tech.
The Rube Goldberg Competition is the final team project for students in Intro to Engineering. It allows them to apply STEM (science, technology, engineering, and math) concepts to real-world projects and develop team-building skills in a creative and fun way. These students are pursuing the Associate in Engineering degree and planning to transfer to four-year institutions for further study.
Industry professionals judged the competition. The judges included representatives from Clark-Nexsen, Barringer Construction, Bohler Engineering, BSA LifeStructures Architects, DPR Construction, Gilbane Building Company, MBP, McAdams Engineering, Nuvasive, RMF Engineering, S&ME, and more. Clark-Nexsen and Barringer Construction were the title sponsors.
The annual event is named for Rube Goldberg, a Pulitzer Prize-winning cartoonist and engineer, whose drawings often depict elaborate and complex contraptions of levers, pulleys, wheels, and gears completing simple tasks.
About Wake Technical Community College: Wake Tech is North Carolina's largest community college, serving more than 74,000 adults annually, with six campuses, three training centers, multiple community sites, and a comprehensive array of online learning options. Wake Tech is accredited and offers more than 240 associate's degrees, diplomas, and certificates that prepare students for university transfer or immediate employment. The college offers non-credit continuing education programs that include customized workforce training, small business support, public safety officer training, basic skills courses such as English as a Second Language and high school equivalency preparation, and other courses for personal enrichment. Wake Tech also serves high school students at the Wake Early College of Health and Sciences, Vernon Malone College and Career Academy, and North Wake College and Career Academy, in partnership with Wake County Public Schools.
For more information, visit www.waketech.edu, www.twitter.com/waketechcc, and www.facebook.com/waketechcc.