College Leadership
President Stephen C. Scott Receives State's Highest Civilian Honor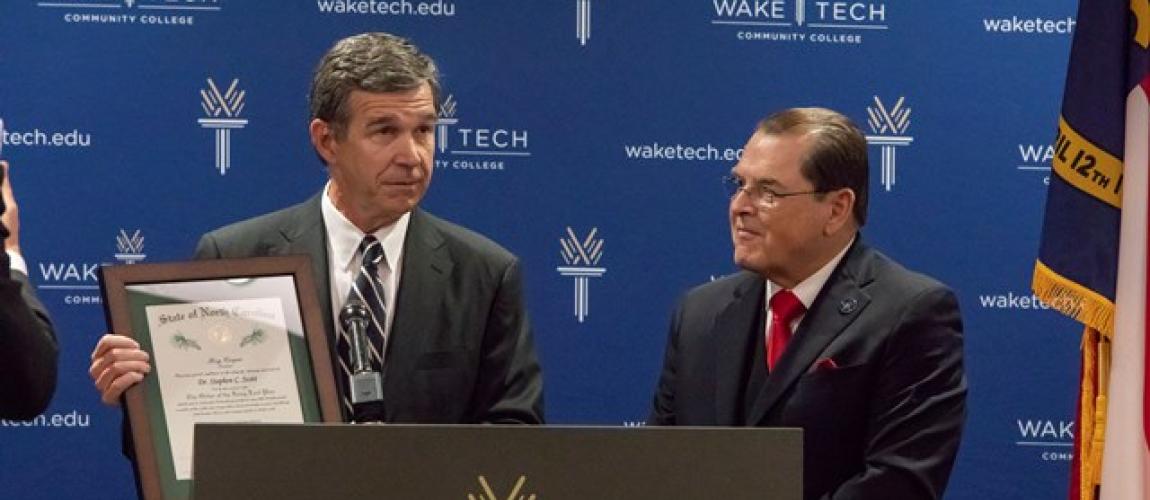 RALEIGH, N.C. (August 7, 2018) - Wake Tech President Dr. Stephen Scott has received the Order of the Long Leaf Pine award, the highest honor bestowed upon a private citizen in North Carolina. Governor Roy Cooper made the presentation today at the opening of the new Wake Tech RTP Campus in Morrisville.
The award recognizes Dr. Scott's leadership as president and his lifelong commitment to education.
With a career in education spanning over 40 years, Dr. Scott has led Wake Tech since October 2003. During his tenure, Wake Tech became the largest of North Carolina's 58 community colleges with six campuses and three training centers.
Wake Tech Board Chair Tom Looney described Dr. Scott as "a true visionary and an innovator." He added, "Under the leadership of Dr. Scott, Wake Tech has created ground-breaking partnerships with businesses, industries, and institutions in Wake County."
Dr. Scott's career began in South Carolina, where was dean at Tri-County Technical College and vice president at Greenville Tech. In North Carolina, he served as president of Southeastern Community College in Whiteville from 1988 to 1999 and then as executive vice president and chief operating officer of the North Carolina Community College System from 1999 to 2002. He served as president of Lenoir Community College from 2002 to 2003 before becoming Wake Tech's President.
Among the many notable achievements during Dr. Scott's tenure at Wake Tech are the following:
Wake Tech's student population has grown from 50,000 in 2003 to over 74,000 currently.
Full-time equivalent enrollment more than doubled.
The number of credentials (degree, diploma, certificates) awarded grew from 1,911 to 8,754.
The number of full-time employees grew from 593 to 1,300.
The college added five new locations.
The college added competitive athletics in 2008 and a sworn law enforcement agency in 2012.
Since 1963, North Carolina's governors have reserved the Order of the Long Leaf Pine award, for people who have made significant contributions to the state and their communities through their exemplary service and exceptional accomplishment.