Around WakeTech
Wake Tech and IBM Collaborate on Blockchain Technology Training
New "Zero to Blockchain" Course Puts Students on Forefront of Growing Technology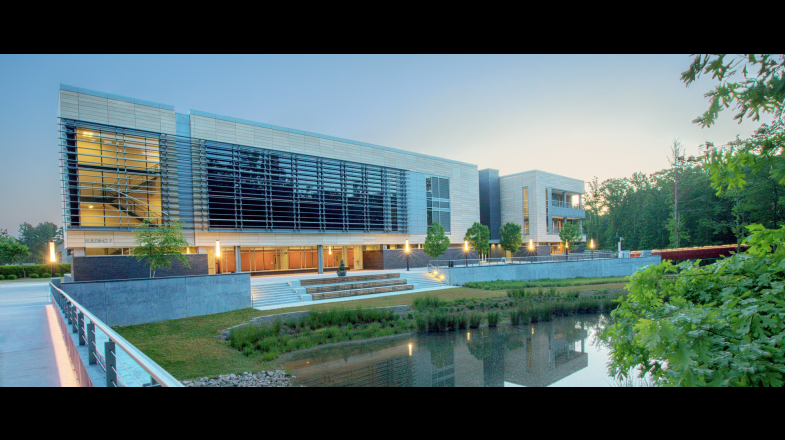 RALEIGH, N.C. (July 30, 2018) - Data Science and Computer Programming students at Wake Technical Community College will have an exciting opportunity this fall semester to enroll in a new, state-of-the-art technology capstone course focused on blockchain technology. The accredited course has been developed together with IBM, a leader in blockchain technology and solutions.
Blockchain is a transparent and shared digital ledger that is transforming business processes and transactions by enabling transparency and trust. Blockchain is best known as the technology behind Bitcoin and other cryptocurrencies, yet its uses go far beyond that. Today, many organizations across industries including banking and financial services, retail and logistics are using blockchain for transactions.
Wake Tech President Dr. Stephen Scott said, "Working with IBM on blockchain technology offers students hands-on, real world experience, through practice, problem solving and mentoring with experts. This is the kind of training that Wake Tech excels in, preparing students with advanced learning and significant skills training which will lead to real jobs in a competitive marketplace."
IBM offering Wake Tech Students Expertise and Support
For the first eight weeks of fall semester, students will take "Zero to Blockchain," a course specially developed by IBM Distinguished Engineer Bob Dill. The course will include both virtual and classroom learning and will be facilitated by Wake Tech Professor Hong Cui at the new Wake Tech RTP Campus in Morrisville. The campus, located on Chapel Hill Road near I-540, which opened this summer, is dedicated to the fastest growing IT programs.
Upon successful completion of the Zero to Blockchain course, students will design and develop a course registration project using Hyperledger Composer to implement the blockchain technology. Hyperledger Composer, a project of The Linux Foundation, can help developers or students design, create, test, and demonstrate permissioned blockchain applications in a "sandbox" environment, without the need to know specific programming languages.
As part of the project, students will work in teams to design the architecture of a course registration network. This includes defining its various applications such as enrollment as well as the participants involved such as students, parents, cashier, registrar, and the loan provider. Students also will determine and implement the transactions that occur within the registration network, such as enroll course, drop course, pay tuition, accept loan, get refund to ultimately deploy the network and test the registration transactions.

IBM employees and executives in the Research Triangle area will serve as judges for the capstone projects. Students will also have the opportunity to participate in an IBM mentorship program where they will be able to experience the job application process, mock interviewing and life after graduation. IBM will also share technical expertise with faculty for the duration of the course. Through these activities, students will be able to earn a co-branded IBM Wake Tech blockchain badge that indicates an understanding of blockchain principles and practices and how they can be applied within a business environment. Badges are verified digital credentials for recognition skill, achievement, and contribution.
IBM Partnership with Wake Tech Part of New Collar Jobs Initiative
Last year, IBM announced an initiative to create more partnerships with community colleges and other institutions to create "new collar jobs" – those that do not necessarily require a traditional, four-year university degree. Raleigh and Wake Tech were targeted as part of this outreach to train more students for skilled positions in fast growing technology fields including security, analytics, AI and blockchain.

"The demand for blockchain solutions in organizations of all sizes all over the world is growing exponentially. In order to meet this demand, companies like IBM that are delivering these solutions need significant resources," said Jerry Cuomo, VP, Blockchain Technology, IBM. "Our work with Wake Tech to offer coursework and mentoring of faculty, as well as students, is an example of how we can start cultivating that talent right here in the Triangle area."
About Wake Technical Community College:
Wake Tech is North Carolina's largest community college, serving more than 74,000 adults annually, with six campuses, three training centers, multiple community sites, and a comprehensive array of online learning options. Wake Tech is accredited and offers more than 200 associate's degrees, diplomas, and certificates that prepare students for university transfer or immediate employment. The college offers non-credit continuing education programs that include customized workforce training, small business support, public safety officer training, basic skills courses such as English as a Second Language and high school equivalency preparation, and other courses for personal enrichment. Wake Tech also serves high school students at the Wake Early College of Health and Sciences, Vernon Malone College and Career Academy, and North Wake College and Career Academy, in partnership with Wake County Public Schools. For more information, visit www.waketech.edu, and on social media @waketechcc.