Around WakeTech
Wake Tech Leader Honored by NC State University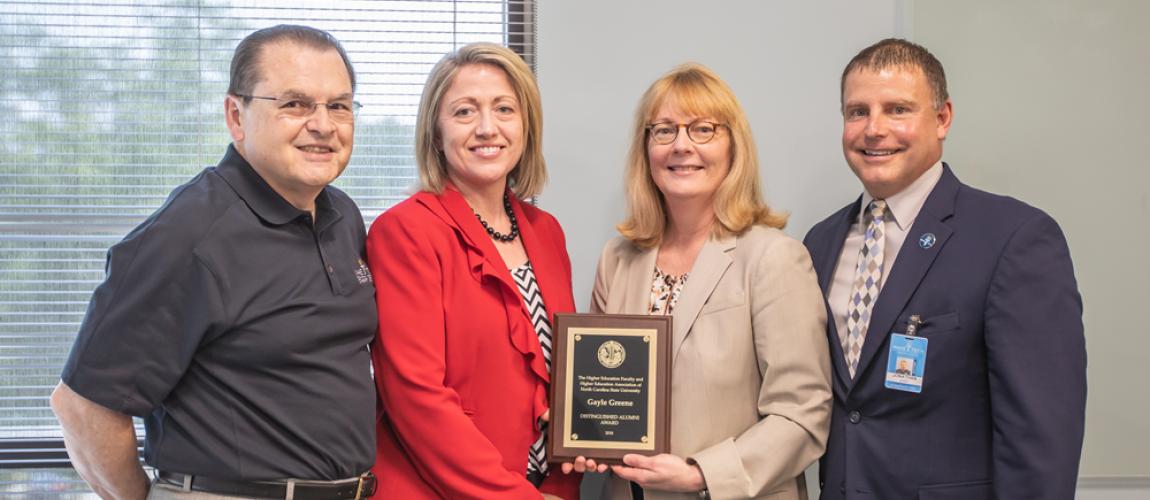 RALEIGH, N.C. (May 14, 2018) - Executive Vice President Gayle Greene is this year's recipient of NC State University's Higher Education Distinguished Alumni Award. Dr. Greene received her Doctor of Education from the NC State Higher Education program in 1998, graduating with a 4.0 GPA. She has been at Wake Tech for 16 years.
"I'm pleased to present this award to Dr. Greene," said Dr. Audrey Jaeger, Alumni Distinguished Graduate Professor at NC State University, who made the announcement during Wake Tech's weekly Executive Leadership Team meeting.
"Dr. Greene is an outstanding leader who cares deeply about students, employees, and the promise of the 'open door' as delivered by community colleges," says Wake Tech President Dr. Stephen Scott. "She has a keen understanding for the role that community colleges play in workforce and economic development, and has a passion for helping students succeed."
Dr. Greene has been a trusted and valued part of Wake Tech leadership since arriving at the college in 2002 as Dean of Arts, Humanities, and Social Sciences. Within five years, she was promoted to Senior Vice President. She supervised the opening of the college's Northern Wake Campus in 2007 and oversaw a major reorganization of Wake Tech's Human Resources division. As Executive Vice President, she supervises senior administrative staff and oversees all college operations.
She has won Wake Tech's Excellence in Service Award, as well as the John and Suanne Roueche Excellence Award from the League for Innovation in the Community College. In 2016, she was selected for the inaugural class of the prestigious year-long Aspen Presidential Fellowship for Community College Excellence.
Wake Tech Board of Trustees Chair Tom Looney says the award is well-deserved. "With a focus on faculty excellence, Dr. Greene works to ensure that Wake Tech has the resources it needs to provide a learning experience of the highest quality," He says. "I'm delighted to see her receive this important recognition."
NCSU offers a cohort-based doctoral program in community college leadership on Wake Tech's Southern Wake Campus. To learn more, visit https://ced.ncsu.edu/event/online-information-session-adult-and-community-college-education-executive-format-cohort-in-raleigh-5/.