Events
Celebration Showcases Inspiring Stories of Building Futures
College Hosts Fifth Annual "IGNITE" Event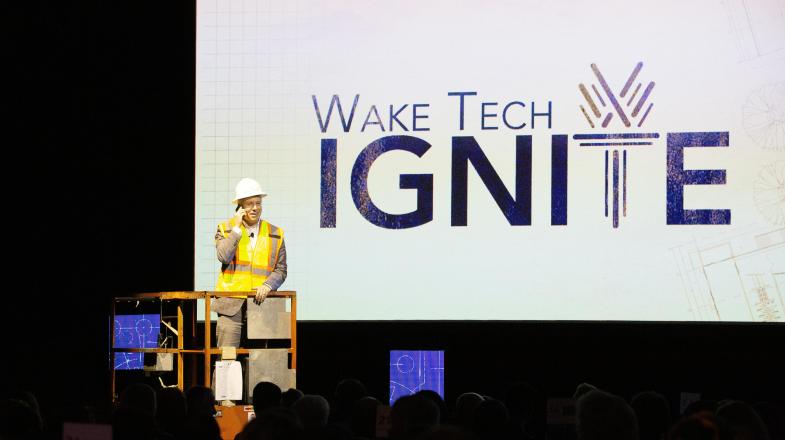 RALEIGH, N.C. (March 1, 2022) – More than 550 local business leaders and influencers gathered Tuesday at the Raleigh Convention Center for "Wake Tech IGNITE" – an annual event to showcase the college and its mission of transforming lives. Video highlights.
Hosted by the Wake Tech Foundation, the theme of this year's event was "Design and Construction of a FUTURE," highlighting the role Wake Tech plays in building the future of our community. The event included impact testimonials from graduates, local leaders and community partners.
Eastern Wake 4.0
Knightdale Mayor Jessica Day and Wendell Mayor Virginia Gray shared their excitement for Eastern Wake 4.0, Wake Tech's newest campus coming to eastern Wake County. The mayors talked about how the new location brings vital education, like biopharma training, college transfer programs, public safety and drone training, right to their backyards, making their communities stronger. "We are looking at everything needed to build a strong community – housing, transportation, economic development – but the biggest piece for us is workforce development and education, and that's exactly what this campus brings," Day said.
STEM Academic Research and Training (START) Program
Amilcar Rodriguez's journey hasn't always been easy. After struggling with the demands of family and work, Amilcar shared how Wake Tech's START undergraduate research program provided him the encouragement and inspiration to pursue a STEM career at a time when life made it difficult for him to pursue his degree. Amilcar says he knew he was smart enough to excel in a STEM career, but the support of the program allowed him to prove it. He went on to North Carolina State University, where he graduated with honors, and is now part of a hand-picked group of interdisciplinary scholars at N.C. State's College of Veterinary Medicine. Wake Tech was recently awarded a National Science Foundation grant of nearly $1.4 million to enhance undergraduate research opportunities for START students.
Wake Invests in Women
Hilda Pinnix-Raglad, co-chair of the Wake Invests in Women steering committee and former chair of the State Board of Community Colleges, introduced the gender inequity initiative launched by Wake Tech and the Wake County Board of Commissioners. Pinnix-Ragland shared that only 6 percent of black and Hispanic women are currently working in STEM careers in Wake County. "Women need to have a seat at the table in the workplace – a real seat – and that means power to influence through position and the pay to go along with it." Sarah Mason, a 2021 graduate of Wake Tech's network management program and a technical consulting engineer at Cisco, shared how she now has the job of her dreams in STEM. After various obstacles kept her from pursuing her college degree and working at the same unfulfilling job for 17 years, Sarah finally returned to Wake Tech and found her passion. "I'm excited about Wake Invests in Women because it will give other women like me, regardless of age or background, the opportunity to learn from and work with other women."
Biotechnology
Leslie Isenhour, Wake Tech's Biotechnology Department head and director of the BioNetwork Capstone Center, and Joe Owen, senior director of human resources at Lilly RTP, highlighted how the college and pharmaceutical giant Lilly have formed an education and industry partnership and are working together to build the future of life science in our community. Through new training space for biomanufacturing and life science companies at the college's RTP Campus, companies like Lilly can train their future workforce. They also forecast an upcoming announcement, set for March 17, about a new regional solution to workforce development – a partnership between Wake Tech, Durham Tech and Lilly – to provide full training for the pharmaceutical giant.
Beltline Education Center
Monica Gemperlein, associate vice president of Workforce Continuing Education, shared the impact of vital programs like WakeWorks® Apprenticeship, the college's collaboration with Amazon, academic and career training for students with intellectual and developmental abilities, high school equivalency program and English as a Second Language (ESL). Jorge Goti's educational journey started at Wake Tech as a student in the ESL program, where he met numerous instructors and fellow students who became dear friends, helping him find employment and housing. Since then, Jorge, president and CEO of MG Capital Maintenance, has established a successful cleaning business that now employs 600 people. "The college was the foundation for my business and personal growth. I continue to be molded by the lessons learned. I was given a chance, and that, blended with hard work and accountability, always produces a great result."
Wake Tech IGNITE is focused on strengthening community relationships and developing new partnerships. The Wake Tech Foundation cultivates and manages a variety of resources critical to the college's success: corporate investments, private grants, alumni and employee contributions and financial and in-kind support from many other friends of the college. These resources fund diverse projects, from student scholarships to broader instructional and institutional needs.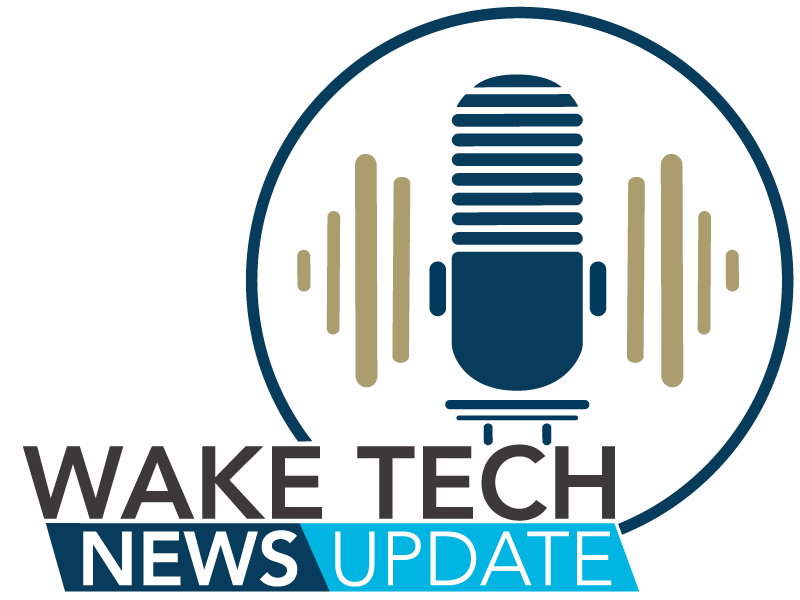 Latest News from Wake Tech